Spring Return to Campus Information
Please read through the policies and procedures regarding COVID-19 and our safe return to campus for the Spring 2021 semester.
This page will be updated as new information becomes available. Be sure to check back frequently.
SUCCESS IN PROGRESS THROUGH COVID-19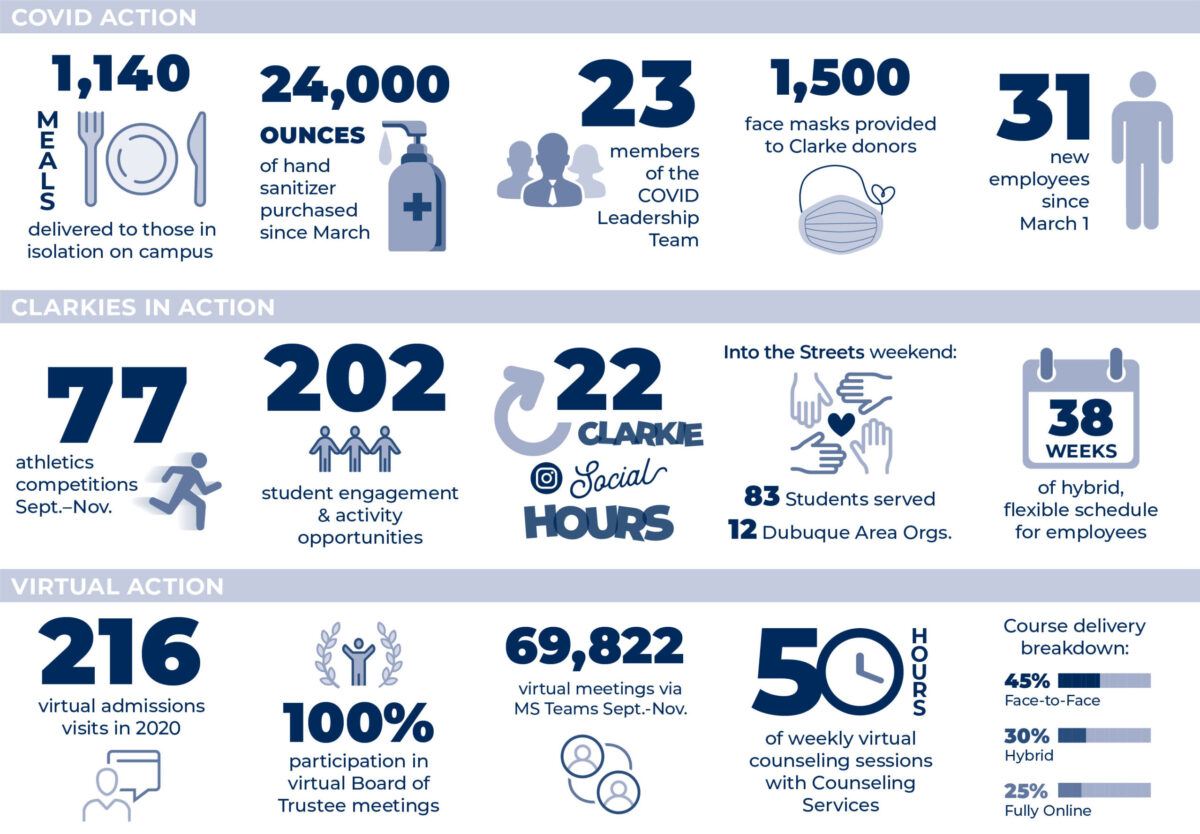 Student and Employee Guidebook
We have created a detailed resource for you to reference throughout the coming months. Inside the guidebook you will find:
Required Student Daily Screening
Online Coronavirus Training
Return to Clarke FAQs
Face Covering Policy
Visitor/Guest Information
Meeting & Events Guidelines
Wellness Resources
Area Health Resources
Exposure Chart and When to Stay Home information
Academic Calendar & Instruction
Clarke University continues to follow the 2020-2021 academic calendar. Spring semester will occur January 18-May 13, 2021. Clarke University continues to keep semester breaks as currently outlined in the academic calendar. The University does not intend on altering the spring 2021 semester dates or instructional delivery approach unless health and safety requires such alterations.
Similar to the fall semester planning, Academic Affairs worked closely with faculty to ensure students benefit from quality learning experiences in safe environments. During the spring 2021 semester, students will continue to experience a variety of approaches to instruction including face-to-face, hybrid, and online (synchronous and asynchronous) formats, all with keeping health and safety in mind.
Students will find more specific information about classroom instruction, mode of delivery, and how learning outcomes will be met with health and safety in mind in their spring syllabi. As is always the case, Clarke University is committed to providing quality learning experiences that lead to success in the classroom and beyond.
During the 2020-2021 academic year, when students have in-person class meetings, they will be required to wear masks, and faculty will wear masks. The use of personal protective equipment (PPE) is for the health and safety of all and consistent with Clarke's commitment to the Common Good. In non-specialized classroom settings, students can expect to experience reduced seating options and physical distancing. In some specialized learning spaces where physical distancing and reduced capacity is not possible (e.g., lab and studio spaces), students and faculty may be required to wear additional PPE.
Students can also expect to participate, as good citizens of our One Clarke, One Community, to assist with cleaning classroom/lab/studio spaces that they have used. Faculty will be live streaming/recording via Microsoft Teams in-person class sessions for students who may not be able to physically join in the classroom experience. Clarke University's attendance policy continues to operate in a revised form for the spring 2021 term whereby if students are sick, they should stay home and call Health Services.
Health and Safety
We have been developing and implementing new policies and procedures to help lower the risk of COVID-19 exposure and spread. The university will continue to follow the latest guidance from the Centers for Disease Control and Prevention (CDC) and the Iowa Department of Public Health (IDPH) along with the state and regional health officials.
What we are doing
Common areas and frequently touched surfaces are being cleaned daily.
Hand sanitizer is provided throughout campus.
Posters will be displayed with reminders on how to prevent the spread of germs and maintaining proper social distancing.
Room layouts and seating arrangements will be revised to allow for social distancing.
Meeting rooms and other communal areas will have reduced seating and capacity limits.
Plexiglas partitions will be used in areas where there is frequent person to person interaction.
Protocols have been developed to guide our activities inside and outside the classroom.
What is required of students
You are required to set-up a profile in the ATS software for Student COVID Screening. This free app, designed for initial use for student-athletes was selected for use for all students because of cost, quality, and effectiveness in use. See page 3 of the Student COVID Guidebook for directions to set up your profile.
You will only need to set-up your profile once. If you are a student-athlete, please select your team during the setup process. If you are not a member of an athletic team, please select Coed General as the category. You will then create a username and password. When you receive your daily email to do the screening, you will be required to log-in using your username and password, then answer yes/no questions that will take approximately 30 seconds.
Take your temperature and monitor your symptoms daily. You are required to use the daily COVID Screening to answer questions before 10 a.m. each day. You will receive an email from marissa.robbins@clarke.edu with a link to the screening tool. If you answer yes to any of the questions you will receive follow-up from a member of the health services or athletic training staff.
If you are sick, stay home or go home/back to your campus room/apartment.
Maintain social distancing practices.
Wear a mask or face covering unless in your room or apartment/house. The university will provide each student and employee two washable cloth masks.
Wash your hands frequently and thoroughly with soap and water for at least 20 seconds (or, if soap and water are not available, use an alcohol-based hand sanitizer with at least 60% alcohol).
Cover your nose and mouth when sneezing or coughing.
Avoid touching your eyes, nose, and mouth with unwashed hands.
Replace handshakes with head nods and waves.
Follow all campus policies and practices.
Be kind. Understand that this is a stressful time for everyone, and an extra bit of kindness can go a long way.
Illness

If you are sick, do not come to campus and if you live on campus, do not leave your room/apartment. Please notify Health Services at 563-588-6374 or, if you are a student-athlete, your athletic trainer. If the staff recommends that you stay in quarantine, they will notify Pat Maddux, assistant academic dean, pat.maddux@clarke.edu, who will contact each of your instructors by email. If you test positive for COVID-19, you will be working with health services or an athletic trainer. If you live on campus, please contact campus security at 563-588-6393 and request that a member of the residence life professional staff contact you regarding isolation options.
Best practices to keep you and others safe

Only go to stores for essential items and wear a mask or face-covering.
It is not considered safe to dine in restaurants or bars at this time.
If you order food for delivery or pickup takeout food, be sure the establishment is practicing physical distancing and safe practices. Delivery may not occur inside the building; please meet the delivery person outside.
Limit your travel outside of Dubuque, as much as possible, to prevent spread.
Do your own laundry.
Keep your living space clean and sanitize surfaces that you touch.
Students living off-campus at home with family or friends in an apartment or house
If you live with other people treat your living unit as a "family unit."
Decide together the rules of the house or apartment about safe behavior. You are only as safe as each member of the family unit. Review the information above and get a commitment from each person to live by these expectations.
Do not share cups, glasses, plates, and silverware. Be sure to wash and clean these items well.
If a member of your family unit needs to quarantine due to symptoms or a pending test, each member of the household (apartment or house) needs to quarantine and be tested if showing symptoms.
Students living on-campus in a residence hall or the campus apartments
It is very important that you follow the requirements for on-campus living as sent to you by Brenda White, Director of Residence Life via email and posted on the Clarke website. PLEASE NOTE: Students living on-campus are not allowed to have guests or visitors with the exception of assistance on the date and time of check-in to the residence halls and apartment building. Masks are required to be worn when students are outside their room or apartment.
Online Coronavirus Training
All students must complete the online coronavirus awareness training course by September 15 and February 15.
The course is administered by Safe Colleges. You will receive an email with a link to complete the course along with a Title IX Rights and Responsibilities and a Diversity Awareness. If you have not received the link, please contact Kate Zanger, Vice President for Student Life, kate.zanger@clarke.edu.
Visitor/Guest Information
Beginning October 1, 2020, for outdoor athletic events and October 5, 2020, for Admissions in-person visits, limited guests will be allowed on campus for specific activities. At this time, indoor athletic events will be limited to people placed on the pass list by team members. Other on-campus indoor activities and event attendance will continue to be restricted to only Clarke students and employees.
Admissions Visits
Individual visits of prospective students must be pre-scheduled through the Admissions Office.
Prospective students will be limited to bringing no more than two (2) guests on their visit.
The Admissions Office will host no more than five individual visits per day, and no in-person visits will take place on Wednesdays per campus' Phase 3 Return to Work scheduling. Special Game Day or Saturday visits for athletic teams may take place through additional collaboration and planning between the admissions and athletics offices.
In-person campus tours will be given by admissions tour guides. Tour guides will be required to follow the 6-foot physical distance protocol with guests. Tours will include specific stopping points along the tour. Campus visits will not include touring/viewing of restricted spaces (ex. Residence Halls).
Visitors will undergo general COVID-19 screening outside of the R.C. and Celeste Wahlert Atrium, prior to their visit (temperature check, basic symptom questions).
Visitors will receive a wrist band to wear during their visit to indicate that they are cleared to be on-campus.
Group Admissions Events/Visits
Remain virtual at this time.
OUTDOOR ATHLETIC EVENTS
Clarke student and employee spectators and athlete parents/families may attend outdoor athletic events at Clarke University Athletics venues.
Following the current Heart of America regulations:
No visiting team spectators will be allowed.
Attendees will undergo general COVID-19 screening at the gate, prior to entrance.
Masks/face coverings are required to be worn at all times.
Facility capacity will not exceed 50% capacity.
Spectators will be required to maintain physical distancing.
Bleacher and terrace markings will be provided to assist attendees in physical distancing.
INDOOR ATHLETIC EVENTS
Effective January 13, 2021, each basketball team will be allowed to invite a designated number of guests to be spectators at each home game. Guests will need to go through a health screening process before entry and will need to leave the Kehl Center immediately following each game. During double-header events, the Kehl Center will be cleared and cleaned between games.
Kehl Center Walking-only Memberships
Effective Monday, January 18, 2021, the Kehl Center will open to Kehl Center Fitness Members who want to walk on the indoor track during designated hours. Ten walkers will be allowed on the track at any one time. Hours are as follows:
Monday – Friday: 7-11 a.m., Noon-3 pm., 6-10:30 p.m.
Saturday: 10 a.m. – 10 p.m.
Sunday: Noon – 10 p.m.
Other Information Related to Events
Tailgating will not be permitted on Clarke's campus or near Dalzell field.
The Sacred Heart Chapel will only be open to faculty, staff, and students for Mass and prayer activities and with the same restrictions as other indoor spaces. Additional information is posted at the chapel entrance.
Limited exceptions for class demonstrations, vendors contractors working on projects, guests/helpers on move-in days will be handled on an individual basis.
Facilities and Buildings
Facilities Management continues developing and implementing building-specific plans for reduced room capacity and/or social distancing in common areas (e.g., entrances, stairwells, hallways, restrooms, meeting rooms, classrooms). This includes:
Installed plexiglass barriers
Rearranging furniture to support social distancing for study/workspaces
Limiting occupancy in communal areas, some may be closed for the seeable future based on current COVID levels
Any changes made will follow the Americans with Disabilities Act (ADA) and fire code requirements.
Cleaning and Disinfecting
Facilities Management will continue to follow CDC guidelines for cleaning and disinfecting, including the frequent cleaning and disinfecting of high touch surfaces in public places. We have significantly expanded the number and location of hand sanitizing stations (distributed and restocked by Facilities Management) which will be available at the entrances of each university building and in many other high traffic areas. Classroom and meeting spaces have been stocked with disinfectant wipes/spray. Office spaces have been provided with disinfectant spray and rags.
Residential Student Expectations
As someone who lives on campus, resident students are accountable for their actions and expected to follow policies, procedures, and protocols as dictated by Clarke University. Failure to do so may result in corrective actions.
Maintain Social Distancing
Having a guest come visit your room:
Currently, only one other residential student from your building is allowed in your room [totaling 2 resident students in a room at one time – both wearing masks]
MJ Letter Wing: Only residents residing on this wing are allowed to visit amongst the wing.
CDA: Only residents assigned to an apartment unit are allowed in that unit.
Do not let people into your building if they do not live there.

Wear a Mask when walking around the residence halls/apartments, while in community bathrooms, laundry rooms, and social spaces.
Group Gatherings
Spaces on campus to gather, safely with limited capacity:
Mary Benedict Hall Formal Lounge
Lion's Den
Mary Josita Hall Formal Lounge
Mary Frances Hall Formal Lounge
Atrium
Library
SAC
Keep It Clean
Community Bathrooms:
Spray surfaces down before and after use
Note: Custodial staff will be spraying down bathroom surfaces multiple times a day. For the best disinfectant results, they will not be wiping the surfaces once they spray it (so you may find surfaces damp at times).
Wear your mask at all times while in the common area of the bathroom as well as in the toilet stalls.
Clean up after yourself: dispose of used tissues, hygiene products, lose hairs, etc. immediately after use.
Laundry Rooms:
Spray surfaces down before and after use
Wear your mask at all times while in the laundry room
Retrieve your laundry as soon as it has finished washing or drying to limit others from moving it.
Mary Frances Hall and Catherine Dunn Apartments: limit 2 people present in the laundry room at a time
Mary Benedict Hall and Mary Josita Hall: limit 4 people present in the laundry room at a time
Residence Hall Computer Labs:
At this time, all residence hall/CDA computer labs have been closed or removed to limit the spread of germs. Here are places on campus that you can go to print:
Library
Computer Center
SAC
Campus Dining
Dining Services will provide a hybrid option for students and employees that limits seating to two guests per table with social distancing in place and a to-go option. Cafe 1843 will be an option with social distancing measures in place.
In addition to the social distancing measures, we will redirect the flow of traffic to accommodate social distancing and create a one-way only flow for guests that includes entry, exit, and while inside the Dining Hall.
We will offer salad bar items served in individual portions to guests as they go through the line.
Ice cream will be served to guests as they go through the service line.
All food will be served on disposable plates. Guests will be handed a disposable cup at the point of sale and will self-serve from the beverage bar.
Dining Hall Hours
Weekdays
Lunch 11:15 a.m. – 1 p.m.
Dinner 4:30 p.m. – 7:00 p.m.
Friday Dinner: CLOSED, dinner available in Café 1843
Weekends
Brunch 11 a.m. – 12:30 p.m.
Café 1843 Hours
Monday – Friday
7 a.m. – 10 p.m.
(Grill closes 10-11 a.m., 2-3 p.m. & 9 p.m.)
Saturday & Sunday
2 p.m. – 10 p.m.
(Grill open from 5-9 p.m.)
Have a favorite home recipe? We can make it.
If you're homesick for one of your favorite foods or have an idea for a recipe that would be great in the dining room, let us know! Our chefs will work their magic to make sure your dining experience is delicious.
Athletics
Athletic teams are practicing and competing following the guidelines and schedule modifications required by the National Association for Intercollegiate Athletics (NAIA) and Heart of America Athletic Conference. To learn more about the NAIA Sports update and scheduling, click here.
Heart of America Athletic Conference is requiring periodic COVID testing.
NAIA is requiring screening for each practice/team gathering.
For an updated athletic schedule, visit clarkepride.com. 
Employees
With the COVID-19 pandemic still in full swing along with flu season quickly approaching, we have decided to continue our current return to campus plan with the alternate A/B day scheduling until further notice.
In anticipation of employees gathering with family and/or possibly traveling for the holidays, we are planning to use the week following Christmas break—January 4-8, as a "self-quarantine week". That entire week will resemble the virtual Wednesdays we currently have. It will be a 100% virtual workweek for those able to do so.
We hope that by keeping as many employees away from campus as we can, we can prevent bringing unwanted germs back to our campus community.
For more details, view the Employee COVID-19 Guidebook.
Campus Events & Activities
On-campus events and activities are being evaluated on a case-by-case basis and will require additional guidelines and procedures to ensure safe practices before being approved. If you have questions about specific events, contact Callie Clark at callie.clark@clarke.edu or (563) 588-8165.
For an updated event schedule, visit Campus Calendar.
Varsity athletics will continue with practices following the guidelines and schedule recommendations by the National Association for Intercollegiate Athletics (NAIA). To learn more about the NAIA COVID-19 updates, click here.
Library
Several measures have been put in place in the library to contribute to health and safety for all:
Masks are required while using the library
Social distancing is required
Limited seating is available
Separate entrance and exit
Masks will be available at request
Group study is not allowed
Tables are marked with the appropriate number of users allowed
Sanitizing wipes are available on each level of the library
Physical items will not be placed on reserve
DVD checkout is allowed, but with procedures for less physical handling
Curbside pickup of items is available by appointment
Plexiglass barriers have been installed at the circulation desk and library help desk
Library Hours
(starting Aug. 24, check here for additional hours)
Monday – Thursday, 7:30 a.m. – 11 p.m.
Friday, 7:30 a.m. – 5 p.m.
Saturday, noon – 6 p.m.
Sunday, noon – 11 p.m.
Computer Center (IT)
Please call (563) 588-6390, email help@clarke.edu, request a support ticket at help.clarke.edu, or Teams message at help@clarke.edu. If you require in-person support, please use PPE and practice social distancing protocol when you do come to the help desk. If possible, please contact us before you arrive.
Update: The Help Desk is resuming student-owned hardware repair services.  Please contact us to schedule an appointment during normal business hours.  If you need immediate assistance or off-hours repair,  The Geek Squad at Best Buy offers hardware repair service, please contact them for details.
If you are pre-approved to have your equipment repaired by the Help Desk, you will need to make an appointment. Clean the equipment before bringing it to the computer center.
Refer to help.clarke.edu for additional IT Help Desk information.
Campus Ministry
Campus Ministry will continue to walk with students in their faith journeys as they return to campus in person or virtually. Some events and activities are still being evaluated and they will be posted on the calendar and Source page when possible. Students can always visit the Resource Page f0r virtual religious services and prayers.
Sunday Campus Mass is still at 5 p.m., which will start on January 17, 2021
Daily Campus Mass is on Mondays and Thursdays at 12:20 p.m.
Reconciliation is from noon until 12:15 p.m. on Mondays and Thursdays
Faith-Sharing Small Groups for undergraduate and graduate students meet virtually on Teams (times to be determined). Anyone can join a Small Group at any time. It is not an obligation to come weekly. Contact Hunter Darrouzet if you want to join a group – please see the description below for more information.
Holy Hour of prayer and adoration will occur on Monday nights from 8-9 p.m. in the Sacred Heart Chapel or virtually on our Facebook page. All are welcome to attend. Please see the description below for more information. You do not need to have a Facebook account to watch.
Rosary Prayer Group will meet virtually via Teams (times to be determined). All are welcome and we can help you if you have never done it. Campus Ministry can also get you a Rosary if you need one. Contact Jenna Dalisay if you would like to learn more about the Rosary.
The Foley Lounge is open Mondays through Fridays from 8-11 a.m. and Saturdays and Sundays from 10 a.m. until Midnight with limited seating spaced for social distancing. If you ever need to talk with someone about spiritual, religious, or faith issues or even just about life during the Coronavirus pandemic, you can always reach out to Hunter Darrouzet at hunter.darrouzet@clarke.edu or (563) 588-8192 or Jenna Dalisay at jenna.dalisay@clarke.edu or 563-588-6446.
Faith-Sharing Small Groups
There are 3-7 students per group who meet weekly together virtually on Microsoft Teams. During these meetings, the group will get to know each other, pray for one another, and use passages from scripture to engage their faith lives. These groups are not bible studies (you do not have to have a bible or knowledge of the bible to be a part of one – Campus Ministry can help you get a bible if you want one). Bible studies are different, and Campus Ministry can offer those, however, small groups are for growing closer in your relationship with Jesus in community with other students. These groups are also confidential so whatever is said in them, stays in them. If you have any further questions, Jenna or Hunter are happy to meet with you on Teams and answer any of your questions.
Holy Hour
An hour of prayer time in the chapel that anyone in the Clarke community can come to for 5 or 10 minutes or the entire time. It will be live-streamed on our Facebook page if you ever cannot or do not want to attend in person. There will be praise and worship songs played at times as well as opportunities for silent prayer. This event is for any student who wants to pray, but it is oriented towards Jesus. There will also be what Catholics believe to be the real presence of Jesus (seen as a host or piece of bread) displayed on the altar in what is called a monstrance (or a golden stand). I want to emphasize that you do not have to be Catholic to come to Holy Hour and you do not have to do anything with the Eucharist. You can just come and pray and enjoy the music/silence and community.
Admission & Aid
We are open for on-campus, in-person visits while still offering virtual visit experiences for our prospective students and their families. Click here to schedule a visit.
Clarke is temporarily test-optional; we will provide admission decisions without an ACT/SAT test score.
If your family's income has been reduced by 10% or greater due to the pandemic, you may be qualified for a special circumstance review to see if you can obtain different federal or state financial aid through the FAFSA. Please reach out to your admissions counselor for details.
Directory Information
This page will be updated as new information becomes available. Be sure to check back frequently.