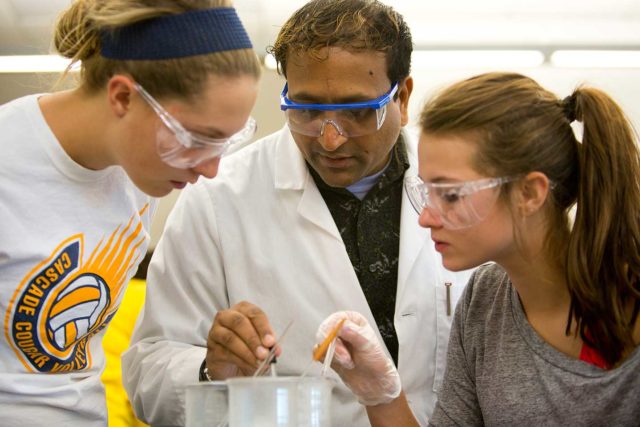 Navigating the job search

 
A Chemistry degree from Clarke University is about more than a basic understanding of the physical sciences. Your core classes will teach you the composition, characteristics, changes, reactions, and uses of substances and energy as well as their benefits and dangers. More than that, you'll develop critical skills that will help you hear those magic words – "you're hired!" 
Develop the skills employers are looking for
Communication Skills
All courses at Clarke offer opportunities to enhance your active listening, presentation, and writing skills, enabling you to explain technical concepts to partners, customers and coworkers in a way they will understand. 
Computer and Technical Literacy
Today, most jobs require basic competency in computer software, and our variety of student labs will provide ample opportunity to experience and become adept with new tools. 
Interpersonal Skills
Thanks to our balance of group and independent work, your classes will model workplace situations, teaching you to relate to people, collaborate openly, and compassionately manage conflict. 
Adaptability
In today's professional world, the ability to learn new technologies and adjust to changing surroundings is important. Your work in the classroom and the lab will prepare you to adapt to change and manage multiple tasks effectively. 
Research Skills
From your first–year courses to independent research projects and capstones, you'll learn to assess data, people, or situations, seek multiple perspectives, and gather more in-depth information for effective decision-making.
Project Management Skills
Organization, planning and effectively implementing projects are critical to academic success and translate well to the workforce. 
Problem-Solving Skills
Your degree fosters your ability to use creativity, reasoning, past experience, and available resources to resolve issues in any field. Solving problems will save your organization time and money.
Strong Work Ethic
Clarkies take pride in their ability to take the initiative, make change, and get the job done right the first time. Your experiences in the lab, student organizations, and more can show an employer your determination and value. 
Emotional Intelligence
Emotional Intelligence is not a skill that is listed on most job descriptions. However, it is a highly sought-after skill that relates to social skills, social awareness and self-management abilities – all things you'll experience with group projects, managing commitments, and more.
Additional Sources of Information