Spring New Student Onboarding
The best is yet to come from Clarke University!
As you look toward your future, think about all the exciting adventures that await you on Clarke's campus. New friendships, strong bonds, dedicated faculty and staff, and a wealth of knowledge are just on the horizon for you. We cannot wait to CU on campus soon.
Below you will find some helpful resources to guide you as you prepare for the start of your classes.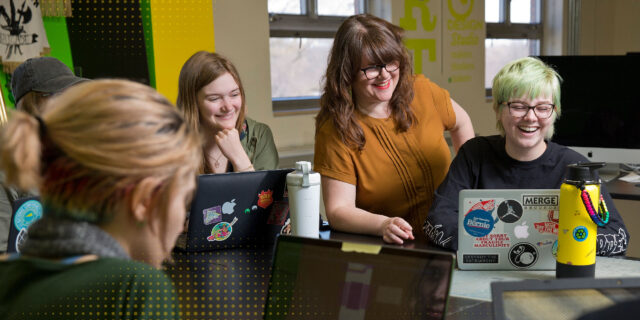 Save the Date
Sunday, January 17
Move-in will be Sunday, January 17, for new students starting in the Spring semester. Move-in details (including a form to reserve a time) will come from the Residence Life department in December. If you have housing questions prior to receiving this detail, email residencelife@clarke.edu.
Monday, January 18
CONNECT Orientation is Clarke's required, in-person, new student orientation. Save the date for Monday, January 18. One day to start off your Clarke journey on the right foot; engaged in our warm, welcoming community.
CONNECT Orientation details will be sent via email and posted here closer to January 18.
Tuesday, January 19
The first day of classes for the spring semester is Tuesday, January 19. Please ensure you have your books and supplies ready for this date.
Send Official Transcripts
Ensure that final official transcripts are sent to Clarke University Admissions Office at admissions@clarke.edu or by mail to 1550 Clarke Drive, Dubuque, Iowa 52001.
Clarke must receive official transcripts from all colleges from which a student was registered for courses.
Transfer students who do not have an associate's degree may wish to provide an official copy of their high school transcript if they took two or more years of foreign language and wish to complete the world language proficiency utilizing these credits.
Any transcript sent by the student or opened by a non-Clarke official are considered unofficial. Many students complete their admissions file with unofficial transcripts in order to allow for a timely admission decision.  If you are unsure if you still need to submit official transcripts, please ask your admissions counselor.
Official transcripts should be received by the first day of class for you to be an enrolled student at Clarke University.
Send official AP or CLEP test results from College Board if applicable.
You will need to be familiar with the Financial Aid & Billing process. Learn more below.
Please call Financial Aid at (563) 588-6327 to set up an appointment if you wish to have a one-on-one conversation about your financing options.
This guide will be your go-to as you prepare to start at Clarke University. It contains plenty of valuable information for you to use as a resource as well as a checklist of to-dos that prepare you for your arrival to campus.
Setup your Clarke Outlook Email and Moodle accounts. Learn more below.
See and feel our campus virtually! Watch this quick four-minute video that walks you through our charming campus, historic buildings, and state-of-the-art learning facilities.