Summer Housing Catherine Dunn Apartments
Live on campus this summer!
Summer housing is $120/week and available starting:
Monday, May 17, 2021 through

Sunday, August 1, 2021 (if you are not living on campus Fall 2021)
or
Sunday, August 22, 2021 (if you are living on campus Fall 2021)
To be eligible for summer housing:
Registered for either the upcoming Summer or Fall semester (by the start of summer housing)
Sign up!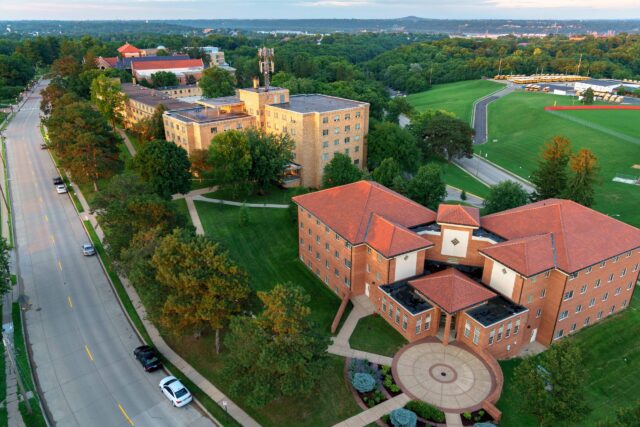 Catherine Dunn Apartments provide
Six-bedroom, air-conditioned apartment, with two full bathrooms, a kitchen, and living room.
Assignments will be made depending upon intended arrival and departure dates.
Roommate preferences and Fall 2021 housing assignments will be considered when assigning summer housing.
Living on campus during the summer – things to keep in mind
Residents are required to complete their daily ATS screening
No guests are allowed during summer housing
Residents need to continue Clarke's mask requirements
Clarke's COVID-19 Isolation and Quarantine protocols will remain in effect during the summer:
If a summer resident tests positive for COVID-19 during their stay, they will be required to relocate to an on-campus isolation apartment or choose to isolate off campus
No meal service is provided during the summer; residents will be responsible for their own meals during isolation/quarantine
Summer charges are on a weekly basis, with the full amount billed at the beginning of the contracted stay. A one-week minimum stay required.  Changes in your contract may result in adjustments to your bill.
Residence Life will review Summer Hall applications as they are submitted. Assignments and move-in information will be emailed to residents during the week of May 3, 2021. For the last two summers, everyone who has applied and met the requirements above has received summer housing.
To secure a spot for Summer Housing, please sign up by 11pm Sunday, May 2, 2021. Housing will be available as long as space is available.