A Season of Gifts and Gratitude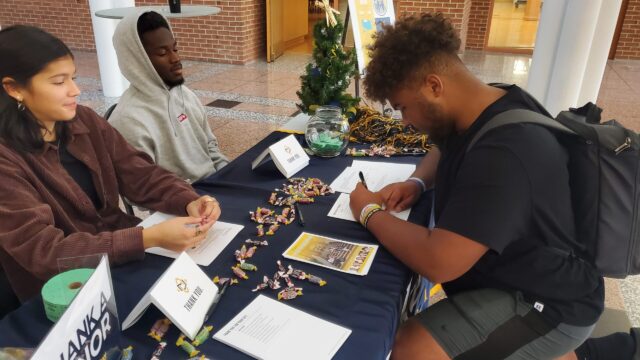 Gratitude is often defined as pausing to notice and appreciate the things that we often take for granted.  
On November 29, the Clarke community joined individuals around the world in a wave of philanthropic giving as part of #GivingTuesday. This global movement celebrates the unmatched role non-profit organizations serve in society and encourages individuals to unite in their support of the causes that mean the most to them. In the United States alone, it is estimated that $3.1 billion was given on #GivingTuesday this year.  
For Clarke, #GivingTuesday serves as another opportunity to live out our core values of education, freedom, charity and justice every day. Philanthropic gifts continue to transform the campus and create opportunities for students from all backgrounds, including institutional scholarships focused on academics, fine arts, athletics, and financial need. This school year alone, nearly $300,000 was awarded through donor-directed endowed scholarships.    
As part of #GivingTuesday, Clarke students collaborated with the Mackin Office of Institutional Advancement to express their gratitude by recognizing the impact donors have on their educational experience. More than 100 students took time to write messages of thanks to donors that day. 
Katie M. wrote, "Thank you for supporting Clarke! My time here has taught me so much about myself and I hope to use my Nursing major to become an ER nurse one day. I know that strong academics at Clarke will help me accomplish my dreams. Thank you!" 
"Thank you for supporting my Clarke experience! I'm from England and love every moment of being with Clarke and living on campus. Your gift to Clarke makes this all possible," shared Daniel V. 
Clarke's commitment to providing high-quality and affordable education has been part of its educational mission since the school was founded by the Sisters of Charity of the Blessed Virgin Mary in 1843. This commitment continues today because of the generous investments from donors who demonstrate their shared belief in the value of a distinctly Clarke education. 
As Clarke continues to explore new and unique ways to assist students, philanthropic gifts from our alumni and friends will remain a critical source of support. If you'd like to make a gift to support scholarships or other initiatives, please contact development@clarke.edu.