Clarke Marketing and Communication Team Flourishes Personally and Professionally Amidst Pandemic
By Clarke News | November 16, 2020
By Amy Errthum '17M, Director of Marketing 
As the 2020 academic year began, President Thom Chesney tweeted a challenge to the university community inviting us to choose 'what headline will be written about Clarke?' This prompted the Marketing & Communication (MarComm) team to pause and reflect on our work and well-being and affirm the future headline we sought to write representing the university brand.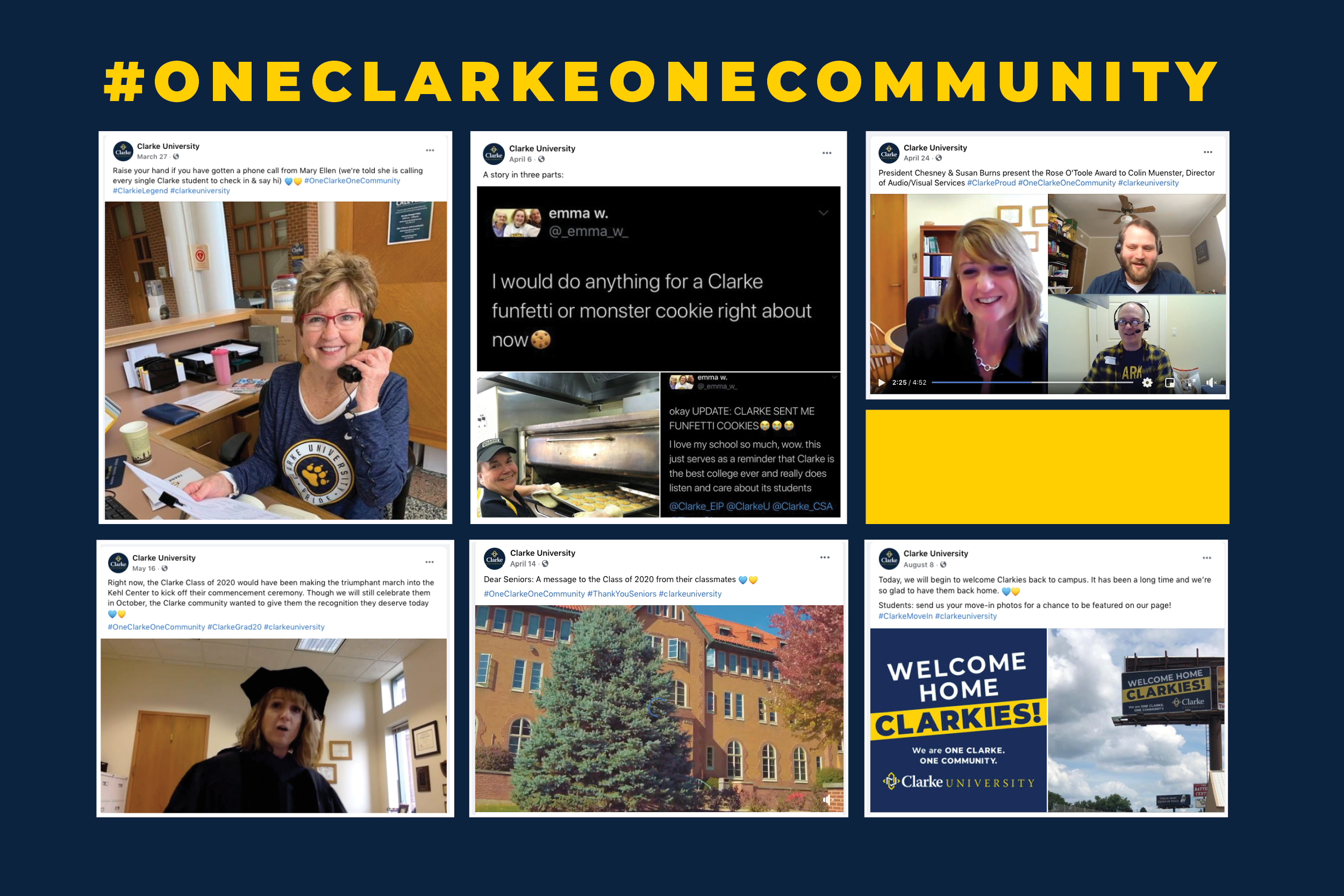 Uniting as One Clarke, One Community
March 23, 2020, is a day many Clarkies will remember; the day students did not return to campus from Spring Break, and Clarke employees shifted to remote teaching and work at home. The team quickly adapted and established a communication and project flow that allowed us to pivot, keeping Clarke present and top of mind amidst a virtual world. We united and produced work in a way we never had before. 
In the time away from campus, we instantly witnessed Clarkies longing for togetherness, which prompted opportunities to unite, gather, and share all the good that was still happening. The first was Clarke Receptionist  Mary Ellen  Herbst calling each Clarke student to check on their well-being, followed by student  Emma Willenborg  tweeting 'I would do anything for a Clarke funfetti or monster cookie right about now.' Miles Breed, Director of Dining Services, and his team immediately shipped a package of cookies to Emma's home.  
We also found ways to celebrate the outstanding achievements that happened throughout the year. A  Spring Recognition Ceremony  celebrating the Meneve Dunham, Rose O'Toole, and BVM Core Value award winners was released on social media. This was something that had never been done before and allowed Clarkies to celebrate from all over the world. 
The university postponed the May 2020 Commencement ceremony, which created another opportunity for innovation. "Dear Seniors," a student video by CSA president Sydney Eustice was released and Clarke employees joined together to create a  congratulatory video. An  app experience  where graduates virtually threw confetti and flipped their tassel via Snapchat and Instagram was also launched. 
When the fall semester arrived, we knew five months was far too long for our Clarkies to be apart. Strategically placed 'Welcome Home Clarkies!' billboards appeared on all highways entering Dubuque to illustrate our students' impact on the region, and how we all longed to be united again, as One Clarke, One Community. 
A look forward
The team spent 20 weeks working 100% remote, and throughout that time, we flourished. We went from a traditional Marketing & Communication office to a MarComm team focused on strategic marketing that aligns with the university's strategic plan. We increased communication, focusing on telling the Clarke story, and strengthening relationships with internal and external partners while living out Clarke's mission and core values. 
Meet the MarComm team

Gayle Langel '08, '17M
Years of service: 12 
Gayle is the Creative Director, and more recently, the campus communicator for all things related to COVID-19 and beyond. She ensures brand management across all marketing and branding efforts and oversees the design and development of the creative process.  
Amy Errthum '17M
Years of service: 6
As the Director of Marketing, I oversee strategic marketing for the entire university. My primary role is to ensure strategic marketing efforts align with the university mission, values, and strategic plan and is prevalent in everything we do. 
Jenni Lehmann '18M
Years of service: 5.5
Jenni is the Multimedia Specialist and she concepts, directs, and produces all videos from start to finish. She also has enhanced motion graphics and digital animation expertise. 
Dylan McKee
Years of service: 3
Dylan is the Social Media Strategist and oversees ten social accounts across 5 platforms, including all main university accounts. 
Brooke Carroll '06
Years of service: 1
Brooke is the newest member of our team, arriving in July 2019. Her primary role is to produce graphic designs for all print and digital communications.  
The feel-good factor of 20 weeks of remote work
Within the 20 weeks of remote work, we reflected on some personal feel-good wins that include the following:  
With much of our 

team 

living outside the Dubuque city limits, 80 hours 

of commute time was saved and 

an average of $583 on gas.

 
A

n average of $433 per person 

was saved by not eating out

 and roughly $600 per person on 

new work clothes. 

 
The average time spent exercising before work, over the lunch hour, or after work ranged from 20 hours to 280 hours total. 

 
And, 

each team member offered a personal highlight from 2020: 

one of us purchased a house, another bought a camper, one member lost 25+lbs, another paid off their student loans and achieved other family financial goals, and 

a final 

member ran 624 miles (the equivalent of running from Dubuque to Madison, WI three times).

 
While 2020 has been a year to remember, we look forward to sharing all the plans this team will accomplish personally and professionally in 2021.  
Our headline for 2021?
Sharing the Clarke story: From best keep secret to a community's university.