Clarke Receives $750,000 from The Gallagher Family Foundation
By Clarke News | June 5, 2019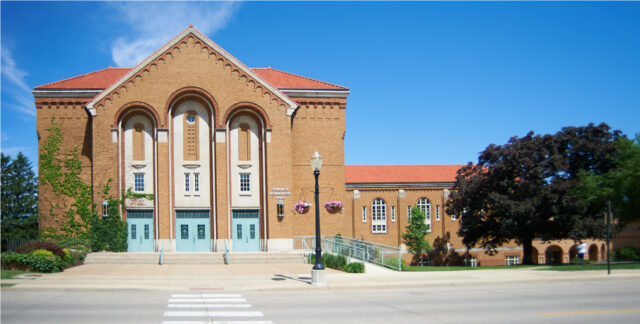 Clarke University is pleased to announce a $750,000 multi-year gift from The Gallagher Family Foundation. The gift will be used to support campus renovation projects, specifically projects planned for Terence Donaghoe Hall (TDH).
Clarke has a long history with the Gallagher family. Catherine (Cassidy) Gallagher attended Clarke in the late 1940s and served as a member of the Clarke Board of Trustees from 1980 to 2004. In 2001, Cathy received an honorary Doctorate of Humanities from Clarke. She and her husband, Edward, were very generous supporters of the university during their lifetimes, and had a particular fondness for the arts. In 2014, Edward Gallagher made a leadership commitment in support of the Edward J. and Cathy Gallagher Arts at Clarke Series. Their legacy of supporting Clarke has continued through The Gallagher Family Foundation, which is led by their children and grandchildren.
Clarke President Emerita Sister Joanne Burrows, SC, Ph.D., said, "We are extremely grateful to The Gallagher Family Foundation for its generosity and long-standing commitment to Clarke University. With their support, the renovations to Terence Donaghoe Hall will bring this historic building back to its traditional role as a primary venue for the arts. The building enhancements will meet performing arts needs of the 21st century for the university and the larger community."
Terence Donaghoe Hall opened in 1928 to serve the college as both a chapel and auditorium. A traditional proscenium theatre, TDH features seating for 452 on the main floor with balcony seating of 290. The building has undergone several renovations over the years and The Gallagher Family Foundation gift will allow for the building's next phase of improvements. The project list includes exterior brick tuck-pointing; interior and exterior paint; new flooring and drapery; and perhaps most importantly, new ADA-compliant restrooms and an elevator to create greater accessibility to the second floor.
Vice President for Academic Affairs Susan Burns, Ph.D., said, "The visual and performing arts are an important part of the student experience. Clarke University has a rich history of high-quality productions and professional talent who have taught and performed in Terence Donaghoe Hall. We are very thankful to The Gallagher Family Foundation for their generosity and vision in restoring and renovating TDH so that current and future generations can appreciate its value and beauty."
"My parents were always strong supporters of performing arts in the community and at educational institutions. Their interests included a wide-range of music from liturgical music, symphony orchestras, and Broadway shows. They also worked toward promoting greater audience attendance at these community events and believed that opportunities in music and theater should be available as part of a college education in both class studies and program participation as well as appreciation as an audience member," said Edward J. Gallagher, III, President of The Gallagher Family Foundation.
Preliminary construction has already begun and will continue through summer 2019. For further information regarding The Gallagher Foundation gift, please contact Institutional Advancement at (563)588-6405 or development@clarke.edu.