Clarke Student-Athletes Find Support Through CASA
By Clarke News | November 17, 2021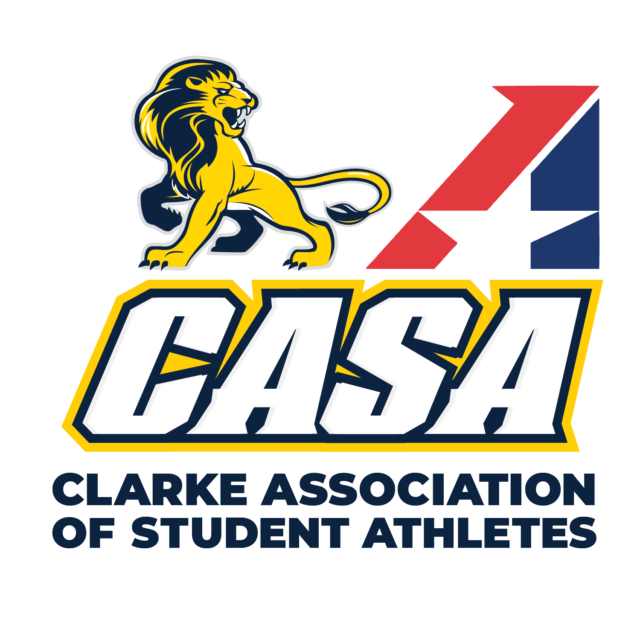 Clarke University has long taken pride in its ability to support students in and outside the classroom. With a growing number of students competing in collegiate athletics, a group of student-athletes are taking the initiative to expand this support through a new organization, the Clarke Association of Student-Athletes (CASA).  
The organization, which will receive official National Association of Intercollegiate Athletics recognition in 2022, is dedicated to giving student-athletes like Becca Schroeder '22 a voice and increasing opportunities on campus. Schroeder balances her coursework as a double major in Secondary Education and Mathematics with a full schedule as a member of the Women's Volleyball and Basketball teams. Through CASA, she hopes to give and receive support from her fellow student-athletes, who understand the unique challenges and opportunities that come with such a high level of involvement. 
"Sometimes as a student-athlete, you can get so focused on your commitments to school and your sport that you miss opportunities that are right in front of you. The goal of CASA is to generate more support between the teams and the greater student body so we can all cheer for and learn from one another," said Schroeder.
 Being a Clarkie is really living the idea of One Clarke, One Community. You are never alone here, there is always someone in your corner. You try to give that support back to others as well.
Working with Director of Athletics Curt Long, the organization also aims to create connections with similar groups at other Heart of America Athletic Conference Schools. Justin Droessler '22, who ran Track and Field for four years at Clarke and is now in his final year of the Doctor of Physical Therapy program, laid the foundation for these efforts during his time as an athlete. 
As Clarke's representative for the Heart of America Conference Association of Student Athletes, Droessler took part in annual 2-day workshops with Conference Commissioner Lori Thomas, as well as meeting virtually every three weeks throughout the year. While Clarke intended to launch their chapter in 2020, COVID delayed their progress.  
"With the return of competition and training this year, we've seen greater engagement. Everyone at Clarke is so involved that sometimes we narrow our focus to just the team or club we're active in. CASA works to expand that view so we can mix and learn from one another," Droessler said. "I know there is so much potential here and even though it may not take off while I'm still here, we've created a framework that can help student-athletes mentally and physically and have a positive impact on campus." 
More than just his time on campus, Droessler has found that his time as an athlete and his work in founding CASA have helped him develop skills that will serve him throughout his career. "One of the most valuable things I've learned through this experience is knowing how to reach out in a way that informs, but also invites input," Droessler said.
Looking back, I could never have imagined all the things I'd be able to do in my time here. Not only did I find teams and clubs, but I helped create new opportunities for others. There is a community relationship here that makes anything possible. Being a Clarkie gives you the opportunity to do so much.
Though Droessler's athletic eligibility may be up, others have taken over the leadership of CASA. Jaida Kroning '22 plays for Clarke Pride Volleyball and is majoring in Social Work and minoring in Psychology. It is under her guidance that the organization will have its first meetings in the coming semester.  
"Within the next few weeks, we will be getting our feet off of the ground and holding our first meeting with members of the organization to share ideas, goals, and plans that the executive board has in mind for this organization at Clarke University," Kroning said. "Another goal we have is to promote a high standard of academic excellence for our student athletes. We want to continue raising awareness regarding the importance of mental and physical well-being for our students. Lastly, Clarke Association of Student Athletes would like to build diversity and unity between students at Clarke University and the Dubuque Community."