Clarke University Alumna Natascha Myers Debuts New Song "Hindsight" on CMT
By Clarke News | October 10, 2019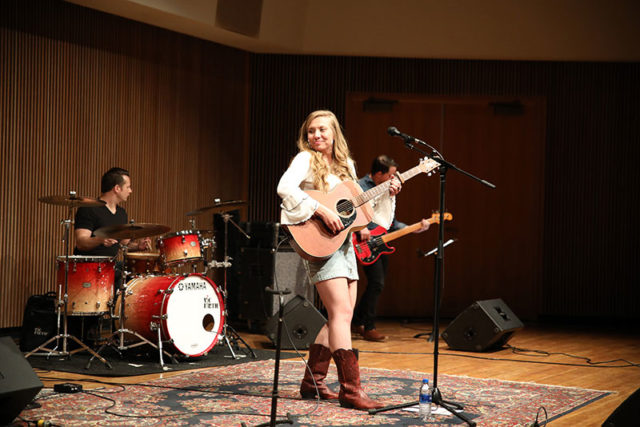 Clarke alumna Natascha Myers '17 recently debuted her new song and video "Hindsight." The song is a track from her breakout album, Songs From A Hardwood Floor.  The video was featured on Country Music Television's Next Up Now and received high praise. CMT is a cable television channel owned by Viacom Media Networks, and as of January 2018, approximately 92 million U.S. homes receive CMT.
Myers said, "The song 'Hindsight' was written with the realization that we so often let regret have its way with us. I wrote it with two friends and gals I look up to, Emily Hackett and Palmer Lee. It was our first write of the New Year, collectively, and we got to talking about how long our resolution lists were. I'm always very diligent about making things happen, but all of a sudden, you blink, and another 365 days have gone by. We decided to write this song about acting upon that before regret sets in, but from the perspective of a relationship. We humans have a tendency to wish we had done things differently, and Emily, Palmer, and I wanted to write a song that proposes we make things happen now, rather than indeed wishing it was different in hindsight."
She continued, "When it came time to dream up and scheme up a music video, I had this lofty idea of portraying the same scene happening two different ways … a pick-your-plot, if you will. At the end of the day, it's up to us how we are going to look back on our yesterdays, and I wanted that choice to be illustrated in this video. My director, the incredible Zack Dyer, took that concept and brought it to life exactly how I envisioned it."
Entertainment Focus wrote, "Myers has a distinctive voice that commands your attention and it has a soft edge that manages to stand out against the instrumentation. 'Hindsight' is one of the strongest songs on her album. The production is a little less, allowing Myers' voice to really stand in the foreground. The chorus is catchy and Myers has some really lovely little inflections in her vocal delivery that work well in the song."
Myers was also recently interviewed by The Country Note (www.thecountrynote.com), where she covered her first performance, first album, musical influences, and educational and musical background. She shared, "Artistically, I am probably most directly influenced by the likes of Lori McKenna and Donovan Woods. Their knack for intricate but crucial detail aiding in storytelling, as well as their vastly different Americana styles are pretty elemental in my own music. I now listen to a lot of Ray Price, Johnny Cash, Merle Haggard, and the like, so I have no doubt they had an influence on my 'older soul style.'"
Myers grew up in Waterloo, Iowa, and graduated from Clarke University in 2017. In her senior year at Clarke, Natascha released her debut project, Do Not Go Gentle, comprised of four tracks. She toured regionally on the weekends, all while balancing a rigorous class schedule, her role as student body president, a position on the Residence Life Staff, and more. "I have my Midwest upbringing, in part, to thank for being passionate about strangers' stories, the seemingly minute details that make life beautiful, the value of a hard day's work, and how to keep both feet on the ground when you need to."
In August 2017, she packed up her trusty Takamine guitar and moved to Nashville, where she resides as a full time songwriter and touring recording artist. Myers has opened for Carnival Music's Hailey Whitters, sold out Isis Music Hall as a headlining talent, completed a self-booked tour through Oklahoma and Texas, performed live on Today in Nashville, was featured on several podcasts, interviewed with Thread, and recorded and released her debut Nashville EP, Songs From A Hardwood Floor, produced by Leigh Houison and Chris Condon of LFT Studios.
View Myers' video for "Hindsight" on the at www.cmt.com or www.youtube.com, or click here.