Dubuque Nurse and Clarke Alumna Katie Gudenkauf '18 Honored at 2019 Hy-Vee Heroes Game
By Clarke News | December 3, 2019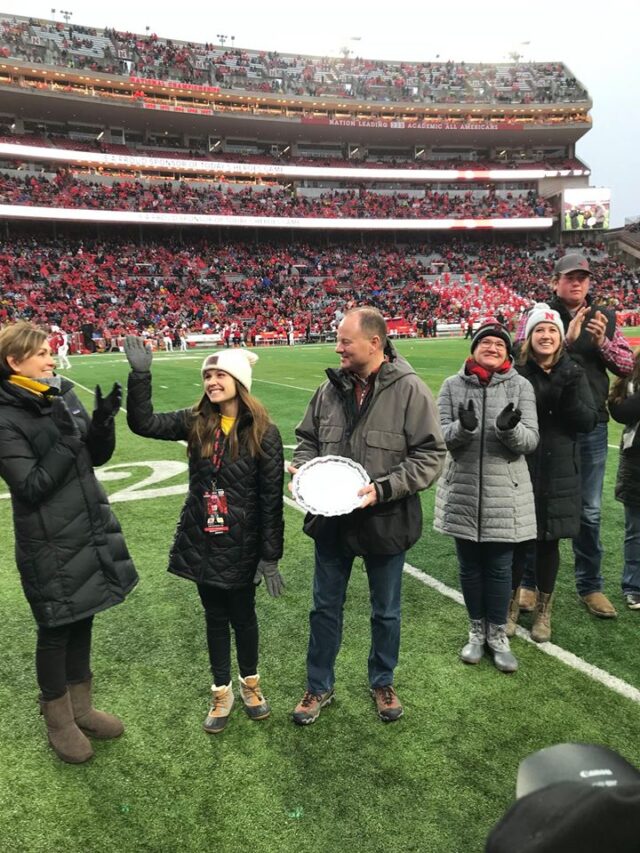 Watch Clarke University's video.
Watch American Red Cross video.
Originally published by American Red Cross. Edited. 
[DES MOINES, IA] Nov. 26, 2019 — A Dubuque nurse and recent Clarke graduate was honored in front of thousands of football fans this week for her quick response in saving a man's life earlier this year on Clarke University's campus. In March, Katie Gudenkauf '18 was attending an indoor soccer tournament at Clarke's Kehl Center when one of the players blacked out after his heart stopped beating. Gudenkauf and several of her friends and fellow nurses were nearby and within minutes, she began first aid, eventually saving his life.
Gudenkauf was recognized as Iowa's 2019 "Citizen Hero" during halftime of the Hy-Vee Heroes Game on Friday, Nov. 29, when the Iowa Hawkeyes took on the Nebraska Cornhuskers at Memorial Stadium in Lincoln, Nebraska. Gudenkauf was joined on the field by the family of James Wilke of Columbus, who was recognized as Nebraska's 2019 "Citizen Hero."
"All Hy-Vee Heroes Game honorees exemplify what it means to be a hero," said Leslie Schaffer, Regional Executive for the American Red Cross Iowa Region. "Their life-saving actions define why the American Red Cross, Hy-Vee, the University of Iowa and the University of Nebraska partner together each year to showcase extraordinary citizens in both states."
The families of Gudenkauf and Wilke were guests of the Iowa Hawkeyes and the Nebraska Cornhuskers at the game and participated in a variety of special pregame activities. During halftime of the Hy-Vee Heroes Game, University and Hy-Vee representatives made a special on-field presentation to the citizen heroes. Their names were also inscribed on the Hy-Vee Heroes Game trophy.
Earlier this year, individuals could nominate residents of Iowa and Nebraska who performed extraordinary acts of heroism and service in their communities for the "citizen hero" award. American Red Cross Board members then selected the winners.
BACKGROUND:
Katie Gudenkauf – On a cold day in March, a tragic turn of events caused Katie Gudenkauf '18 and Jake Tebbe's '04 paths to cross on Clarke University's campus in Dubuque, Iowa. At the time, Jake and Katie did not know one another. Both attended an indoor soccer tournament taking place in Clarke's Kehl Center. While Jake was playing in the soccer game, his heart stopped beating and he blacked out. Katie and her friends, also nurses, happened to be nearby. Katie stepped in and began first aid, eventually saving his life. Katie is a 2018 graduate of Clarke's Doctor of Nursing Practice program and currently works as a family practice nurse practitioner at Grand Regional Health Center.
James Wilke – In March 2019, Nebraska faced historic flooding that created dangerous conditions. Structures were damaged, roads were swept away and lives were lost. As floodwaters rose, James Wilke, a farmer from Columbus, Nebraska, was asked by local authorities to help a stranded motorist. James did not hesitate to climb into his tractor like he had done many times before and proceed to assist this stranger. As James crossed a flooded bridge in his tractor, the bridge gave out. James and his tractor were swept away by the floodwaters. James gave his life while attempting to save the life of a stranger.
Be a Local Hero
Every eight minutes, the Red Cross provides hope and comfort to people affected by community disasters. Financial contributions to the Red Cross Disaster Relief fund allow volunteers to help disaster victims, anywhere, anytime. Donations are used to prepare for, respond to, and help people recover from disasters – big and small.
The American Red Cross also invites the public to be heroes in their communities and sign up to volunteer and be a part of their life-saving work. The American Red Cross is looking for diverse volunteers of all ages and skill levels. People can go to www.redcross.org to learn more about volunteer opportunities and how to submit a volunteer application.
About the American Red Cross:
The American Red Cross shelters, feeds and provides emotional support to victims of disasters; supplies about 40 percent of the nation's blood; teaches skills that save lives; provides international humanitarian aid; and supports military members and their families. The Red Cross is a not-for-profit organization that depends on volunteers and the generosity of the American public to perform its mission. For more information, please visit redcross.org or visit us on Twitter at @RedCross.
About Hy-Vee, Inc.:
Hy-Vee, Inc. is an employee-owned corporation operating more than 265 retail stores across eight Midwestern states with sales of $10 billion annually. The supermarket chain is synonymous with quality, variety, convenience, healthy lifestyles, culinary expertise and superior customer service. Hy-Vee ranks in the Top 10 Most Trusted Brands and has been named one of America's Top 5 favorite grocery stores. The company's more than 85,000 employees provide "A Helpful Smile in Every Aisle" to customers every day. For additional information, visit www.hy-vee.com.