'Form Exposes Function' exhibit celebrates the Arts and Sciences at Clarke
By Megan Hinderman | December 8, 2021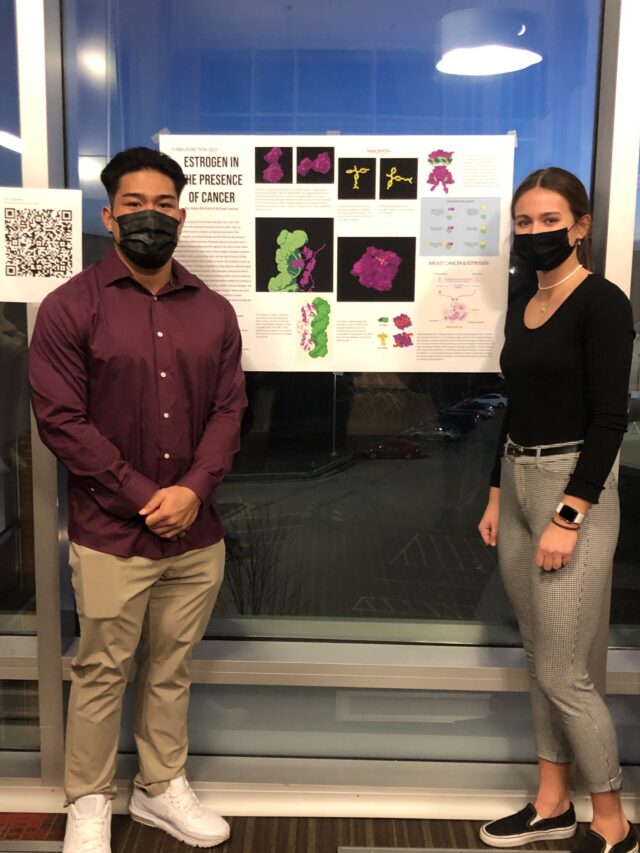 On Monday, December 6, students from Clarke University's art and science programs presented their final projects as part of a semester-long collaboration. This year, the annual showcase entitled "Form Exposes Function," explored molecular structures of different types and stages of cancer.  
Divided into six teams, each group chose a different protein that is impacted as part of cancer growth or treatment. Students from the Biochemistry, Chemistry, and Biology programs performed research, data collection, and creating models of the findings. Groupmates from the Art, Graphic Design, and Business Administration programs were then charged with taking these findings and creating visual representations of the data for presentation. The results offered stunning digital and print pieces that capture the essence of the team's work.  
"Working with the graphic design students allowed us to bring our proteins to life because of the different perspective we each had on the images," said Biology major Giana Michels '23. "To a science major, we might think of a protein in a certain way, while a graphic design student would have a completely different view. At times, it felt like we were teaching each other different things we have learned in our own majors."
"Of all my projects this year, this one called on all my skills and felt the most like working with a real client," added Michael Nacnac '22, Business Administration major with an emphasis in marketing who partnered with Giana for their presentation on Estrogen in the Presence of Cancer. "I didn't know anything about the biochemistry side of things when we started, but Gianna and I worked well together, and we were able to communicate and learn from one another. I'm really proud of how it turned out." 
Each group gave a short poster presentation to Clarke faculty and staff and Dubuque community members during the social on Monday. The event expanded the interdisciplinary learning opportunities by including catering from Clarke's Nutrition and Food Science students. 
"This collaboration is really at the heart of what a Clarke education is all about," said University President Thom D. Chesney. "Students are front and center explaining their research, talking through challenges, and applying what they've learned. They had to look outside their specific program and expertise and think about how they communicate and work with others, presenting them with experience that will serve them well in their careers and communities." 
The collaboration, which is led by Professor of Chemistry Sunil Malapati and Associate Professor of Art and Design Eric Wold, has been shared at national conferences and served as an educational model for other universities, such as the Center for Biomolecular Modeling at Milwaukee School of Engineering.