Grants bring open educational resources to Clarke University 
By Clarke News | August 24, 2021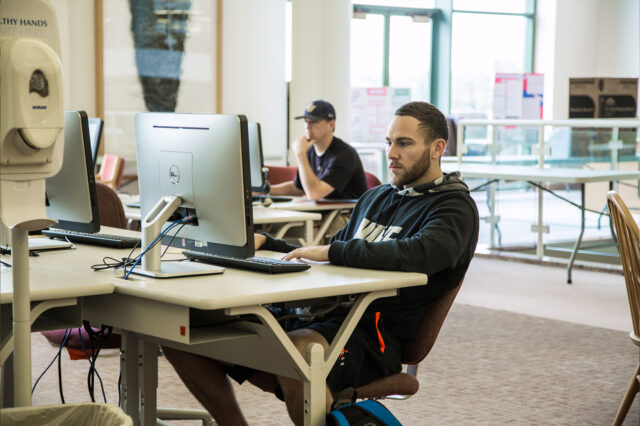 Thanks to a major initiative led by the Iowa Private Academic Libraries, Clarke University has been awarded over $6,000 to invest in open educational resources. Clarke is one of 15 universities benefitting from the project sponsored by the Governor's Emergency Education Relief Fund. 
Open educational resources are materials that are in the public domain or have been released under an open license, and the IPAL grants compensate faculty for adopting, remixing, or creating open resources. This can include everything from full courses to sections of textbooks, lectures, or assessments.  
Clarke University received three grants through the program, with funds awarded to Associate Professor Tim Boffeli and Assistant Professor Olivia Aspiras in the Psychology Department. Professor Andrea Bixler also received an award to support the development of an open access writing guide for Biology students, which she is curating alongside Associate Professors of Biology Laura Birch, Shaun Bowman, and Laura Hecker. While each project approaches the concept of open educational resources differently, each promises real and lasting benefits for faculty and students alike.  
Open educational resources give us incredible flexibility in how and what we teach and offer phenomenal opportunities to collaborate with educators at Clarke and around the world. This increased access allows for innovation and continued growth in teaching and learning," said Eden Wales Freedman, Vice President for Academic Affairs and Dean of Faculty at Clarke University. "Open educational resources also reduce costs for students by eliminating the need for a textbook, while offering high-quality educational materials that can be easily accessed and shared.
Several courses in the Biology and Spanish Departments at Clarke University already use open educational resources and with the support of the staff in the Nicholas J. Schrup Library, Clarke is working to expand these resources to other departments. This could potentially include future grant submissions through IPAL.  
In the first round of grants, IPAL received 75 applications and awarded 38 grants for a total of $150,010.00 benefiting institutions of higher education across Iowa. Another round of grants will be awarded this fall. More information can be found at http://www.ipalgroup.org/oer. 
About Iowa Private Academic Libraries 
The Iowa Private Academic Library (IPAL) consortium was formed in 1977 to facilitate the sharing of information resources among the private academic libraries of Iowa, enhance the availability of information resources to the academic community of Iowa, and more.