Haase breaks scoring record among other achievements
By Clarke News | January 18, 2021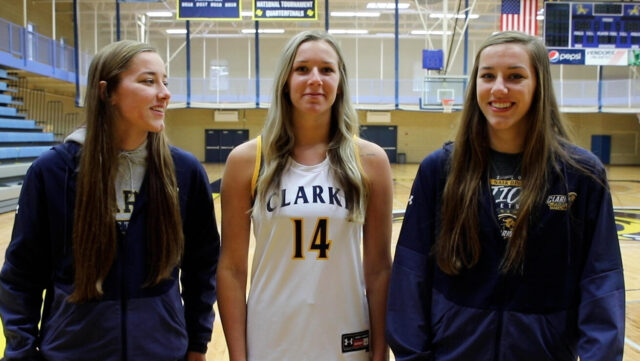 For the first time in 27 years, there is a new leader atop Clarke University's women's basketball all-time scoring chart. Three-time NAIA All-American Makenna Haase became the program's most prolific scorer in the fourth quarter of the Pride's Heart of America Athletic Conference overtime win at Grand View University on January 6. The senior forward tallied 16 points, boosting her career scoring total to 1,774 points and shooting her past alumna Tina Kuhle, who finished her career in 1994 with 1,773 points.  
"It's honestly surreal to think that I am the holder of several records," said Haase. "Coming to Clarke, I never imagined I would be as successful as I have been. It's truly a humbling experience that I will cherish for the rest of my life. I wouldn't have been able to achieve any of the accolades without the constant support of my teammates and coaches throughout the past four years, and I am forever grateful for them."  
A native of Freedom, Wis., Haase also owns Clarke career marks in blocked shots (197) and rebounding (1,123). Her current scoring total stands at 1,793 points. As a junior, Haase became the second player in school history to have over 1,000 career points and 1,000 career rebounds.   
"This is an incredible milestone, and we could not be more excited for Makenna to have achieved it in her four short years," said Clarke Head Coach Courtney Boyd. "It took 27 years for anyone to even come close to Tina Kuhle's record, which was a large task within itself, but leave it to Makenna to make it possible. She has understood the importance of her role on this team since she was a freshman and continues to contribute in whatever way needed to maintain the team's success. Whether it is scoring, rebounding, leadership or mentorship, Makenna steps in and takes ownership of it." 
Haase and her teammates have compiled a 79–31 win-loss record over the past three–plus seasons and have earned back-to-back NAIA national tournament berths. The No. 8-ranked Pride are currently 11-1, riding a 10-game winning streak. 
Makenna is not only is successful on the court, but she exerts herself in the classroom as well. 
"Studying nursing and being an athlete takes a lot of time management and self-discipline and she has both," said Boyd. "As we look to finish out this season strong, there is no doubt Makenna will do whatever needed to make that happen, but she has more to look forward to. Her nursing career will be just as successful and more rewarding than her four years of basketball." 
Haase has been a member of Clarke's Dean's list, has been active in the University's Dance Marathon, and is a senior board representative on CANS (Clarke Association of Nursing Students).  
"Makenna's big heart, caregiver personality, and high character are going to guide her to be one of the best nurses out there," said Boyd. "She is a special piece of the puzzle for our team and we cannot wait to see where her nursing career will take her." 
Makenna isn't the only Haase family member on the Pride's 2020-21 roster. Twin freshmen, Taylor and Haley Haase, joined their older sister at Clarke this past fall. Taylor is a forward on the team and Haley is a team manager. 
Following her graduation, Makenna plans to return home, begin her career in nursing, and see where it takes her from there.