Legacy student carves her own path while honoring family tradition
By Clarke News | May 11, 2021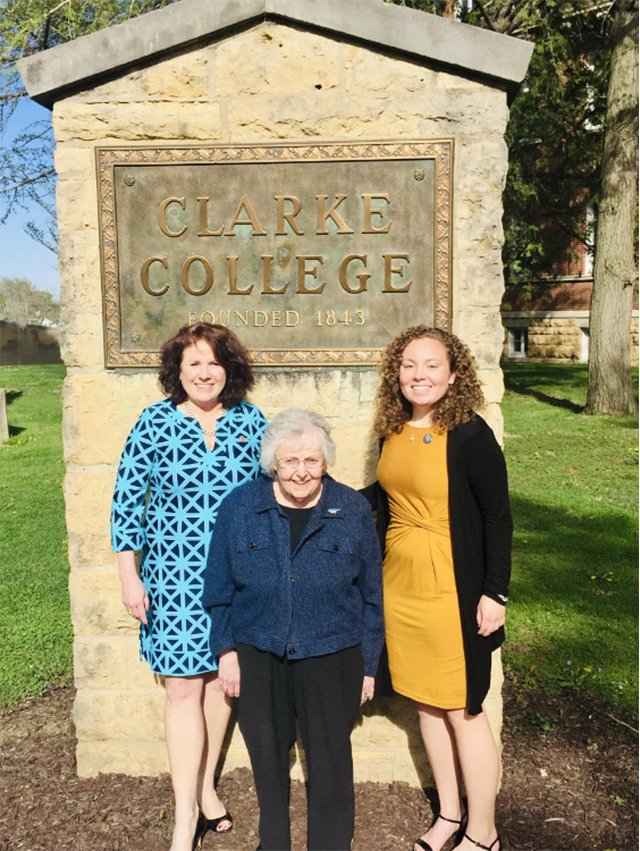 Nursing major Sydney Baule '21 had the makings of a Clarkie long before she ever enrolled in her first course. Her mother, Kathy Schilling '87, and grandmother, Elizabeth Lange '59, were both Clarke alumnae, and the university played an important role in Baule's childhood. 
"My brother and I would spend summers attending computer science camps and cooking classes here at Clarke, then spend a few weeks with my grandmother," Baule said. "My grandmother and mother were a part of my decision to come to Clarke, but I was even more drawn to the nursing program since my mother had graduated from the nursing program years prior." 
Though she cherished the family connection to Clarke, Baule also worked hard to carve her own path at the university, both inside and outside the classroom. While busy keeping up with the demands of coursework and clinicals for her nursing degree – made even more challenging due to COVID-19 restrictions – Baule also competed with the Clarke cross country and track teams, performed as Cuttie the mascot, and took part in student events and organizations like the Clarke Inclusive Games and the Clarke Association of Nursing Students (CANS). For Baule, this diverse experience was the key to personal and professional growth.  
"Clarke University has taught me to continue to learn and adapt to my surroundings through community involvement. Additionally, my humanities courses and nursing curriculum at Clarke have taught me to be a more culturally aware, well-rounded individual and nurse," Baule said. "I suggest new students become involved either on or off-campus and take advantage of the liberal arts classes as they give a student insight into deeper thinking." 
As she prepares to graduate with the class of 2021, Baule is already setting goals for the future. She will start her career as a staff nurse at the University of Iowa Hospitals and Clinics on the Surgical and Neuroscience Intensive Care Unit. There she will care for critical care patients who have undergone transplants or have other critically acute conditions. In time, she'd like to earn her Doctorate in Nursing Practice. Outside of work, she aims to continue running and hopes to complete a 10K or half marathon this summer. 
No matter what lies in store for Baule, she is confident in the knowledge that Clarke will continue to play a supporting role in her life. On Commencement Day, she will be focused on the present moment and those who mean the most to her.  
"Commencement means the celebration of the changes and hard work from over the past four years," Baule said. "Also, I am excited to celebrate with family. The legacy of being a third–generation Clarkie is special and will be something I get to share with my grandmother and mother for years to come."