TEMPORARILY POSTPONED: Musical Menus at Clarke March 26-28
By Clarke News | March 10, 2020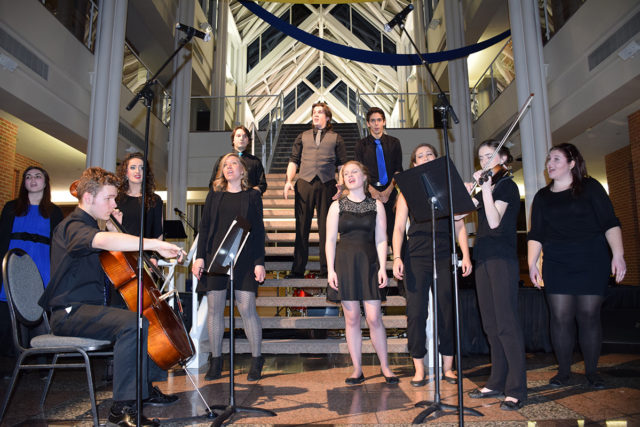 Musical Menus is the area's best musical revue and a long-standing Clarke tradition. This spring's event will be presented Thursday through Saturday, March 26 – 28, in the R.C. and Celeste Wahlert Atrium on the campus of Clarke University. This year's Musical Menus theme is 'Old, New, Golden, Blue.'
Guests will enjoy an entertaining journey through the history of music. The event will encompass classical music, jazz, and both golden age and modern musical theater. Guests will hear everything from Georges Bizet's Carmen to hits like South Pacific, Ragtime, and Aida.
"This year I am excited to have our new Director of Bands, Dr. Rob Stull, and the Clarke Wind Ensemble and Clarke Jazz join the program, in addition to student and faculty soloists, Collegiate Singers, and Melos," said Kylie Gougler, DMA, Clarke University Visiting Assistant Professor of Voice and Musical Menus artistic director.
"I am thrilled our guests will hear a treasured Dubuque artist and Clarke alumna, Megan Gloss, as well as the vocal talents of our event host and Clarke Development Officer, Angela Ventris. Clarke is truly lucky to possess such diverse talent among its faculty, staff, students, and alumni. We hope to highlight and celebrate that at Musical Menus. There is definitely something for everyone on this program, and I am delighted to share this music with our community!" said Gougler.
Musical Menus highlights a gourmet five-course meal served while enjoying the musical performances. The impressive meal will be prepared by Clarke Dining Services and includes: First Course, grilled shrimp, six onion cream, ham and white cheddar fritters; Second Course, spring salad of pickled, grilled, and roasted vegetables, cilantro yogurt dressing, cheddar crisps, and cornbread crouton with bread service of brazi bites with butter and parmesan; Third Course is a choice between braised short ribs, garlic potatoes, and broccoli rabe; seared salmon, spring vegetable medley, and lemon emulsion; or herb gnocchi with asparagus cream, shiitake mushrooms, and parmesan. The Finale is milk cake with cookie dough ice cream.
Seating begins at 6 p.m. with dinner served at 6:30 p.m. Ticket prices for the meal and performance are $70 for premier seating and $60 for gold seating. Reservations are required and may be made until Friday, March 20, by calling (563)588-6593, or by visiting www.clarke.edu/artsatclarke/musicalmenus
Proceeds from Musical Menus are applied to a variety of Clarke Music Department initiatives including travel expenses for the university's ensemble tours, private lessons, music scholarships, and new equipment.
For more information, contact Kylie Gougler at (563)588-6593.