New Class Welcomed to Clarke Through Convocation and Tree Planting Tradition
By Clarke News | August 31, 2022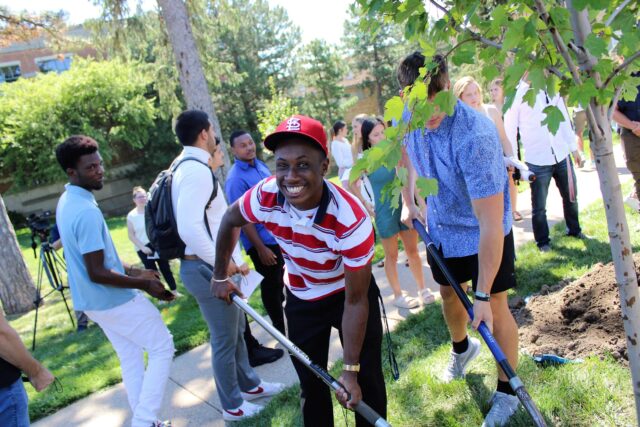 Honoring a tradition that has been in place since the early days of Clarke University, all new students gathered on Wednesday, August 31 for the annual Convocation and Tree Planting ceremonies.  
Students were welcomed by President Thom D. Chesney, Ph.D., Vice President for Academic Affairs and Dean of Faculty Eden Wales Freedman, Professor of Chemistry and winner of the 2022 Meneve Dunham Award for Excellence in Teaching Sunil Malapati, and Clarke Student Association (CSA) President Anne Crawford '24.  
In his welcome, Thom helped contextualize all the opportunities and experiences awaiting this new class while presenting them with their first unofficial homework assignment – understanding how they each embody the university's core values of freedom, education, charity, and justice.  
"I invite you to make it your personal homework assignment to answer how you will daily live our core values of freedom, education, charity, and justice—visibly, positively, and fearlessly before and with others," Thom said. "This assignment's due date will vary for each of you, and the grading will be anonymous. Rest assured, you will know that you've passed with honors when you no longer have to think about how you will live Clarke because somewhere along the way you have become Clarke and Clarke has become you."
The theme of seeking community carried into Sunil's remarks as well, as he shared how the decisions of his parents to seek a college education changed the trajectory of not only his life, but that of an entire village. As his home in a small farming community in India is transformed by the climate crisis, Sunil called on all the members of the Clarke community to never limit their imaginations, as that is where personal change and global transformation can begin.  
"That is indeed the best part of coming to a place like Clarke. Through the Compass program, you get to explore multiple areas and find pockets of passion that intrigue you, stimulate you, and make you more than a person ready for a narrowly tailored job," Sunil said. "My most ardent hope for you is that you will explore, find those beautiful answers that lead to more beautiful questions, paths you would not have imagined for yourself, and that you will enrich your life and ours."  
CSA President Anne Crawford followed with a greeting on behalf of the student body, as well as a reassurance that all members of the Clarke community were ready to serve as resources to those just beginning their journey at Clarke.  
The people surrounding you today are the same ones who will go through the same challenges and experiences as you," Anne said. "Be each other's support system. As you go through, remind each other to work hard, have fun, and not limit your imagination. 
Convocation concluded with the Tassel Ceremony. This tradition is a symbolic representation of the role incoming students will play in the continuing story of Clarke University.  Navigator faculty, who work with new students during
CONNECT orientation and throughout the year, presented incoming students with an official tassel. These tassels symbolize the dedication and hard work students will put in as they advance toward their degrees and commencement ceremony. 
The Tree Planting Ceremony followed Convocation. Norm Freund, Ph.D., Professor Emeritus, returned to campus to provide a history of tree planting. Members of the new class planted their October Glory Maple on the front lawn of the R.C. and Celeste Wahlert Atrium. Representatives from each Navigator class were also invited to share a dedication explaining what the tree symbolizes for them. These notes were then planted with the tree and blessed by Director of Campus Ministry Sister Kathleen Sinclair, BVM.
The senior class of 2023, whose tulip tree is planted near Mary Josita Hall, then named their tree "Twenty-Tree," a fitting tribute to a class who has brought playfulness, humor, and joy to life at Clarke over the last four years.