Student Finds Inspiration in the History of Clarke
By Clarke News | July 5, 2022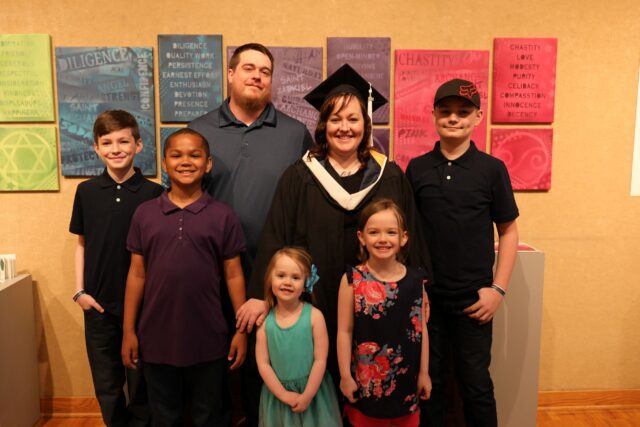 Susan Whitcher '22 is the first to admit that her path to Clarke was far from traditional.  
At age 27, Susan had a pulmonary embolism after a deep vein thrombosis developed in her leg and traveled to her lung. Not being able to breathe or walk, Susan was rushed to the emergency room, where doctors discovered she was also pregnant with her fifth child.  
"It was the most frightening time of my life; for a while the doctors and I didn't know if I would live, let alone be able to walk again or safely deliver my child," Susan said. "It was a long, slow road to recovery and during that time I rediscovered my love of art. Because I couldn't walk, I started painting, drawing, working on the computer – anything I could get my hands on. I had always wanted to go to school for art, and this was the perfect reason to go back." 
After giving birth to her daughter and earning her Associate of Arts in Graphic Design from Northeast Iowa Community College, Susan pursued her love of art with Clarke. To her surprise, she also found a love for new subjects as well. 
I have always loved art but didn't feel the same way about history," Susan said. "Over the last couple years, I fell in love with history and the archives because of Clarke faculty like Louise Kames '77 MFA and Liz Schmid. I have been reunited with my faith and found a love for philosophy because of Kent Anderson Ph.D. and Paulette Skiba BVM, Ph.D. Each one of these teachers made me reflect on my life and my work and I want to carry the 'Common Good' wherever I go.
In her final semester, Susan took Philosophy 200 "Our BVM and Clarke University Heritage" with Assistant Professor of Religious Studies Susanna Cantu Gregory, Ph.D. As part of the class, students were challenged to answer one of the unknown questions about Clarke's history. Susan chose to explore the history of women of color at Clarke. 
Susan's research took her to the Clarke Archives, and she worked closely with Susanna, Library Director Sue Leibold, and Professor Emeritus Norm Freund as she dug through magazines, yearbooks, and more. Slowly she began to uncover a history of women of color at Clarke, starting with groups from Puerto Rico, China, and western Europe. While each had their own unique story, Susan still hoped to find the first woman of color from the United States to attend Clarke. 
The trail became harder to follow from 1932-1948 because all archival copies of yearbooks from that time were destroyed in the Clarke Fire of 1984, but Susan persevered. While looking through yearbooks and some photos displayed in Eliza Kelly Hall, Susan found the woman she was looking for: Phyllis Smythe. 
"There she was, the first Black woman to graduate from Clarke. In her photo, I saw her beautiful smile, full of hope and vibrancy. Then I saw that her graduation year was in May of 1952 – 70 years before my own upcoming graduation," Susan said.  
Susan shared her research with leadership at Clarke and ensured that Phyllis' milestone was recognized as part of this year's ceremony. For Susan, the discovery also had a more personal connection. 
My son is mixed, and I think about people like Phyllis paving the way for him. Clarke opened doors to education for women before it was popular to do so, and we've evolved so much since then. Now we open those opportunities to women and men of all different backgrounds. We are a very diverse community," Susan said. "The second I stepped onto this campus I felt the love, this sense of community, and that commitment to the common good. To know that is open to everyone, that this could possibly be a place for my son in a few years, that brings me a lot of joy.
Susan's passion for art and design and newfound love for history also influenced her Senior Showcase for her Art + Design Final. Titled "Seven Deadly Sins" Susan explored the significance of the number seven through a variety of religious and philosophical texts, as well as more common references like the seven colors of the light spectrum and the seven days of the week.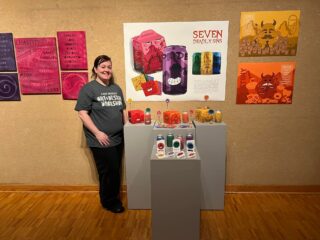 "It was a great way to tie together all that I'd learned in my religion, philosophy, and history classes and add depth to the art I was creating" Susan said. "Some of the designs are product mock-ups and some are more bold display pieces, yet each tells a very layered story."
While the Clarke chapter of Susan's story may be ending, she is already looking ahead to the next opportunity. 
"Now that I have graduated, I plan to use the summer to enjoy spending time with my children and creating art," Susan said. "I'd love to pursue work with one of the design firms in Dubuque or grow my own photography and design freelance business."