An alumna's connection creates Clarke Internships
By Clarke News | August 23, 2021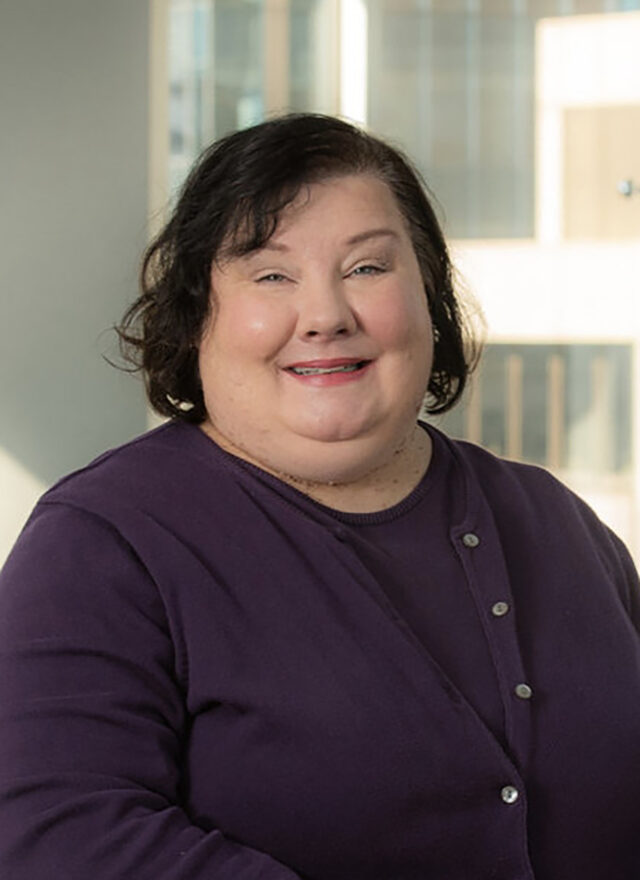 After high school, Kate Corrigan '85 had a vision of her future: four years at Iowa State in Computer Science followed by a steady career trajectory in the growing personal computer industry. Yet, there was a curve in the path she couldn't quite get around: her mother.  
"My mother (Carol Corrigan '61) was a Clarke grad, and she campaigned for Clarke. She finally won the summer after my senior year," Corrigan said. Corrigan had been convinced Iowa State was the right fit for her, until she learned her access to the computer lab would be limited. "A bit of a problem for a computer science major," Corrigan joked.  
Clarke, on the other hand, offered a celebrated computer science program with smaller class sizes and greater lab access. "I thought I would only stay at Clarke for a year or two, but the BVM Sisters created such a fostering and nurturing atmosphere. I always had access to my professors, which helped me come out of my shell and discover my leadership potential. Clarke is really how I got to where I am today."  
After a long career in consulting, Corrigan seized the opportunity to form a start-up with a longtime colleague and friend Pam Schilling in 2018. Their company, Archer Career, specializes in career coaching and job search services. Originally designed to work with MBA students, they decided to expand their offerings in March 2020 when drastic changes in the economy left many seeking new jobs and careers. When the time came to pilot the program with undergraduate students, Corrigan saw an opportunity to work with the school that had meant so much to her. 
"I called Becky Herrig '84, '16M in the Career Services Office, who was excited to help us build a connection,'" Corrigan said. "We had three Clarke interns pilot the job search software for us. They gave us a lot of feedback about what worked and what didn't. We had been nervous that this tool we developed for MBA students wouldn't translate to undergraduates, but with the help of the Clarke students, we found the answer was a resounding, 'yes!'" 
Along with Nick Miller '21 and Charlie Mendez '21, Jack Kamentz '21 spent a semester in an internship with Archer Job Search. The nature of the internship was unique in that not only was Kamentz gaining work experience to boost his resume, but by testing the functionality and effectiveness of the job search software, he also gained knowledge he could immediately apply to his own career search post-graduation. The lessons learned during his internship helped him secure a position with Rachel Fitzpatrick Insurance Agency.  
"This [internship] directly helped me set goals for the future, identify the jobs that I could be most successful in, and learn how I can best prepare to work in this desired field. I was able to use the Archer job search tool to pick out a handful of companies and opportunities from a long list of available jobs in order to apply for positions that I felt suited me best," Kamentz said in his internship reflection. "All in all, this was a great experience, and one that I believe helped set me up for success in the future." 
As Archer Career expands its pilot program with Clarke and other schools, Corrigan continues to forge new paths for herself and the clients she serves. She is also continuing to invest in Clarke as a new member of the Board of Trustees. One thing that ties all these efforts together is Corrigan's passion for lifelong learning, and she is determined to share education's life-changing benefits with others, whether people have years of experience or are exploring their options with internships. 
I look for interns with a liberal arts education and encourage other organizations to do the same. There will always be a need for workers who can think critically, solve problems, and communicate, and a liberal arts education is the best way to develop that knowledge," Corrigan said. "Then, I encourage students to not say no to anything their first 10 years in the professional world. It's the best way to find out what you don't like and what you do. It may be easier to follow the prescribed path of your major like a 'computer programmer' or a 'nurse' or a 'teacher' but taking a different road can be so rewarding.
Your connections at Clarke expand far beyond your four years on campus. If you or your company has internship opportunities, we would love to connect you with Clarke students! Please reach out to Career Services Counselor Becky Herrig at becky.herrig@clarke.edu or 563-588-6321.