Clarke University implements onboarding and professional development opportunities for employees through CareerPLUS
By Clarke News | August 4, 2021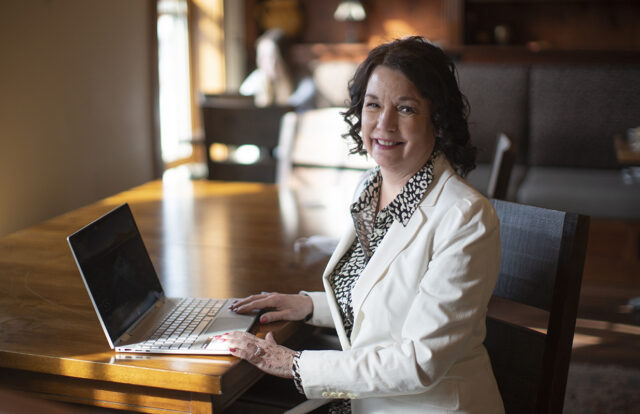 As a Catholic academic community, Clarke University believes learning is lifelong and life-changing. We strive to inspire intellectual curiosity, cultural engagement, professional preparedness, spiritual exploration, and a commitment to contributing to the common good in a global society. To put that mission into action, the Clarke University Cabinet recently approved a new benefit for all full-time staff – CareerPLUS professional development micro courses provided at no cost to the employee or department.
Clarke's mission places lifelong and life-changing learning at the center of our work," said Thom D. Chesney, President of Clarke University. "To fulfill that aspiration, we are compelled to create and offer timely, accessible, and meaningful professional development that invests in employee success and engagement. CareerPLUS gives us a powerful, mission-aligned platform to do it.
CareerPLUS is offered through Clarke University's Institute for Professional Excellence and provides personal and professional development opportunities to organizations, teams, and individuals through a series of online, self-paced micro courses and digital badges. Micro courses feature 15 hours of interactive content that learners complete within a 4-week timeframe. With offerings for both professional development and personal growth, CareerPLUS micro courses cover concepts such as Communication, Leadership, Conflict Management, Navigating Change, Spirituality, Diversity & Inclusion, Data Analysis & Interpretation, and Critical Thinking. Micro courses can be stacked to earn digital badges or applied toward a flexible, affordable online bachelor's degree for adult learners through Clarke University.
In addition, after completing 90 days of employment, all new full-time Clarke University staff will participate in two CareerPLUS micro courses as part of the on-boarding process — one on spirituality and one on diversity and inclusion. This on-boarding opportunity is optional for full-time faculty. Participating in these micro courses will allow new employees the opportunity to connect with one another, build camaraderie across the campus, and deepen their understanding of and uphold the Clarke core values of Education, Charity, Justice, and Freedom. By utilizing CareerPLUS for continued learning, the University ensures all employees have access to affordable, high-quality professional development opportunities.
Clarke is also able to offer personalized workforce education to the broader community and has partnered with dozens of companies and organizations in the Dubuque community to assist with their upskilling, on-boarding, and team-building initiatives.
This new benefit aligns with many of Clarke's previous offerings to employees, including tuition remission. The tuition remission policy set the precedent for non-degree seeking learning, so long as the coursework is directly related to staff responsibilities and approved by each supervisor.
As an educational institution, it is imperative that Clarke encourage, model, and fund lifelong learning for its employees. Investing in the Clarke community and encouraging employees to develop their skillset by taking micro courses will ultimately increase morale, job satisfaction, and efficiency.