Clarke's Musical Menus Returns March 31, April 1 and 2
By Clarke News | February 28, 2022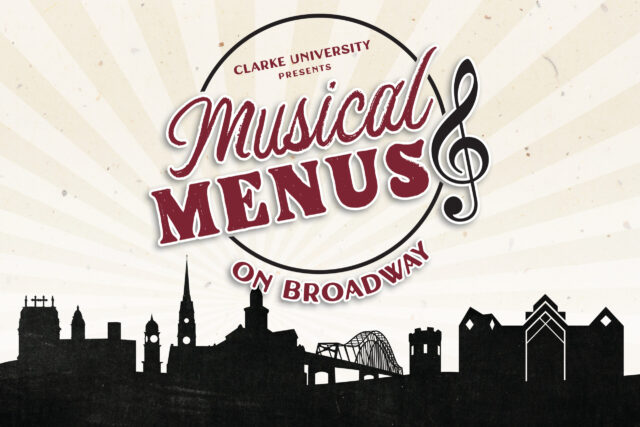 The music of Broadway comes to Clarke University for an evening of Musical Menus: On Broadway!, the area's favorite musical revue. This spring's event will be presented Thursday, March 31; Friday, April 1; and Saturday, April 2, in the R.C. and Celeste Wahlert Atrium.  
Guests will come together as a community while enjoying performances from popular Broadway showtunes by current Clarke Music students, faculty, alumni, and other guests from our local Dubuque family. Dr. Joshua Glasner, Clarke University Assistant Professor of Voice and Music, serves as the event's artistic director. 
"In a time when the pandemic has kept us apart, music has a unique ability to bring people together," Glasner said. "Clarke's Musical Menus offers an evening of excellent food, great entertainment, and even better company that can help our community heal, while also celebrating the hard work of our music students and raising funds to support them." 
With the health and safety of guests in mind, this year's Musical Menus will feature a shorter program than in years past and a reduced capacity to allow for spacing between tables. However, guests will still enjoy the gourmet food the event is famous for, with delicious hors d'oeuvres and desserts emphasizing local ingredients envisioned and prepared by Clarke Dining Services and the Nutrition and Food Science program. 
The event begins at 6 p.m. with hors d'oeuvres, and the performance begins at 6:30 PM with dessert served in the Wahlert Atrium afterward. Ticket prices for the meal and performance are $29.99 for the general public. Clarke students, employees and BVMs may purchase their tickets for a reduced rate of $24.99.  Reservations are required and may be made until Friday, March 26, by visiting www.clarke.edu/musicalmenus or by emailing Dr. Glasner at joshua.glasner@clarke.edu.   
All proceeds benefit recruitment to and continued development of the Clarke Music program.