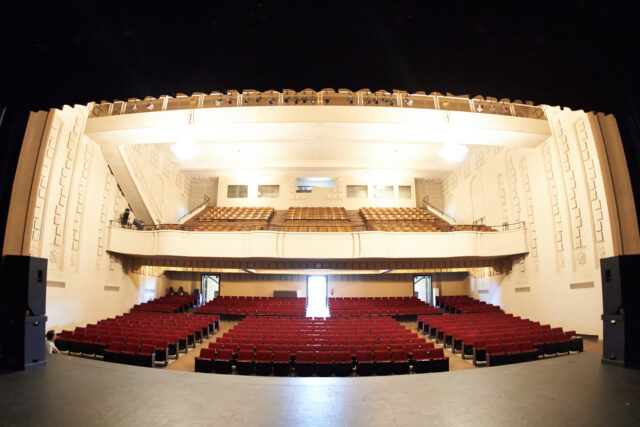 Terence Donaghoe Hall
All drama and musical theatre productions are performed in historic Terence Donaghoe Hall. Opened in 1929, TDH is a proscenium stage design with a main floor and balcony seating. The theater has a capacity of approximately 600 people.
The auditorium underwent many changes over the years. Because it was difficult getting the interior dark enough for movies and theatrical performances during the day, the large windows on the east and west sides were bricked over in the mid-fifties. The interior was also remodeled at various times, including removal of all the wooden seats on the main floor and their replacement with cushioned seats. This work was finished by September of 1981. The original wooden seats still remain in the balcony. Also at this time, the center aisle was removed in the lower half of the auditorium (by now called the theatre) and two smaller side aisles were created in order to increase the number of prime center seats.
Drama and Musical Theatre tidbits:
Drama department faculty members are professionally involved as guest actors, directors, critics and consultants.
Students experience a proscenium theatre and full costume shop.
Students have the opportunity to participate in the improv club on campus.
Drama majors can get involved with theatre on tour, a community-based effort involving theatre performances for local elementary schools.
Clarke University has a partnership with Dubuque's Grand Opera House, which provides numerous opportunities for students in a professional production.