A Balancing Act: DNP Graduate Cares for Health, Home, Family, and Farm
By Clarke News | May 16, 2022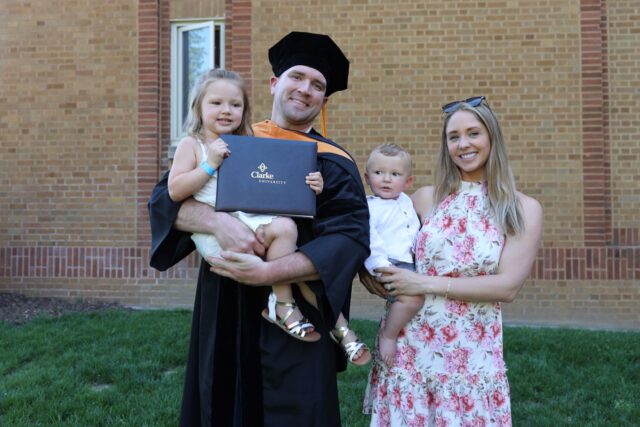 At first, it may not seem like nursing and farming have a lot in common. We picture them in totally different settings and requiring unique knowledge and skills. Yet the more you learn, commonalities arise. Yes, there are long hours and the work can be both physically and emotionally demanding, but more importantly, at the heart of every nurse and farmer, there is a determination to serve and to care – be it for people, animals, or the land.
Alex Berns learned this determination from his parents and like them, he has found a way to embrace both farming and nursing in his life. He first followed in the footsteps of his mother and became a nurse, working in a variety of departments including emergency, intensive care, and hospice, all in rural areas including his hometown of Waukon, Iowa.
While working on his undergraduate degree, Alex was also learning from his father in hopes of one day taking over the family farm. Unfortunately, that day came sooner than expected.
"My dad passed from cancer just as I was really finding my passion for farming. I was glad I'd had that time to learn from and be with him, but I wasn't ready to run the farm alone," Alex said. "Thankfully, our neighbors and his friends rallied around me and my family. They helped with planting and harvesting while I worked, completed my clinicals, and went to school. I have been able to learn so much from them."
As Alex's friends and neighbors helped him with the farm, he sought opportunities to support the community with his unique background and experience and chose to advance his career by earning his Doctor of Nursing Practice with Clarke.
"A Doctor of Nursing Practice is a fairly new approach to meeting healthcare needs and is such an important one to our rural areas. It can be difficult to recruit a physician or provider to a small town, and nurse practitioners are filling that need," Berns said. "Clarke has extraordinary and competent providers leading their program and they are preparing more practitioners to offer that level of care wherever they serve."
Throughout his time in the program, Alex's rural roots have influenced his approach to his classes, especially when it came time to choose a research topic. Currently, farmers across the country are facing a mental health crisis, with a 2020 Centers for Disease Control and Prevention report finding that suicide rates for men in farming and ranching is nearly one and a half times that of the national average. By focusing his DNP research on perceptions of mental health care by male farmers in rural areas, Alex hopes to adapt his care to his patients' needs.
These are men who deal with so many unpredictable elements like the weather, crop prices, animal health, and more. That creates a huge amount of stress, and it can be difficult to explain to someone who doesn't have a knowledge of farming. My findings support the idea that having a provider who understands the unique culture and stressors that come with farming could make a difference," Alex said. "Now that I have my DNP, my hope is to work with my hospital to create more effective outreach where I could visit farms or meet these individuals outside of regular business hours to make mental health care more accessible.
Beyond his relationship with the farming community, Alex credits his family as an important part of his educational journey. He and his wife Katie have a 3 ½ year-old daughter and a one-year-old son and work diligently to balance family time alongside professional commitments. While it can be difficult at times, Alex said he let go of being perfect at any one thing and focused on enjoying the moment.
"I needed to have patience and not try to go "all in" on everything at once," Alex said. "I really focused on every moment, whether it was my work, my school, the farm, or those little moments with my family."
"My advisor, Andrea Simmons, and instructors Angel Keller and Lisa Rettenmeier were also exceptional, especially through COVID-19," he added. "They were so supportive and helped me complete the program in a way that worked for me. Their work as nurse practitioners and educators set me up for success. I can't imagine this experience without them."
With his time with Clarke's DNP program ending, Alex will be shifting from a part-time placement to a full-time roll in Family Medicine with Veteran's Memorial Clinic in Waukon, Iowa. He also hopes the more consistent work schedule will allow him to build up his beef cattle herd and connect more deeply with farming. As both a farmer and a nurse practitioner in his hometown, he is primed to make a positive impact in his community.
"I feel a sense of responsibility and I also take a lot of pride in being able to practice family medicine in the town where I grew up," Alex said. "I have some lofty goals for my career, but I think Clarke has prepared me to continue to provide high quality, patient-focused care to my friends and neighbors."