A Clarke Life: The Story of Barb Meloy Callahan '60
By Clarke News | January 19, 2021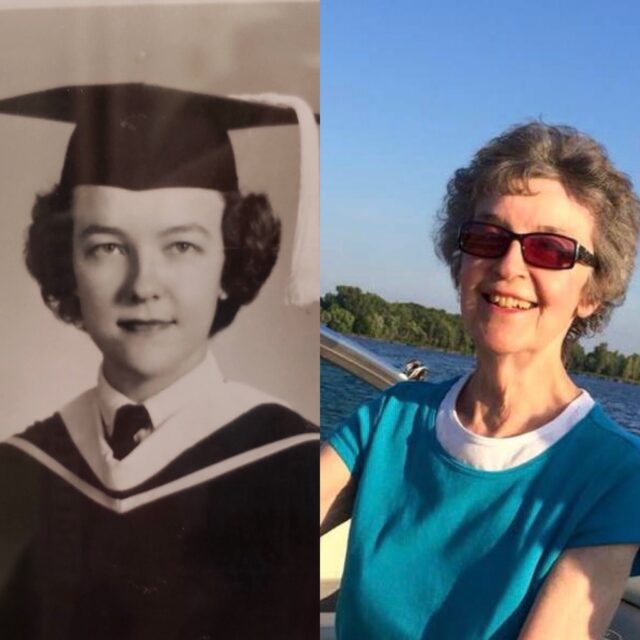 Barbara Meloy Callahan '60 has been a Clarkie for the majority of her life. She has seen Clarke go through tremendous changes over the past 60 years, becoming the educational institution it is today. We sat down with her to discuss her life and Clarke experiences.  
Barb's Clarke journey began in 1957 after graduating from the Mercy School of Nursing in Dubuque. She came to Clarke to continue her studies and serve as a campus nurse. Her life on campus  started out similar to many others – she made friends, began integrating herself into the campus community, and dedicated time to her studies and work. However, everything changed in October of her first semester when students began coming to her with flu-like symptoms.  
This was no ordinary flu. A doctor determined these students were suffering from the Asian Flu, a virus that was causing a worldwide pandemic. A campus outbreak quickly followed, with 35 students being diagnosed within a week. The next week, that number surpassed 100. "The most severe symptoms were cough, high fever, and fatigue," Barb noted. "Students were having fainting spells in the hallways and we were constantly telling students to take in plenty of fluids and rest." As a campus nurse, Barb was heavily involved in the treatment of the affected students. "I was responsible for students in Mary Josita Hall, which is where I lived on campus, as well as students in three other residence halls," she shared. "I would see each sick student as often as twice a day and I was on-call basically 24/7. I stayed up until 2 a.m. every night caring for the students, and I had to go to classes on top of that." Barb also recalls a relative lack of pandemic protocols compared to the present day. For example, roommates were still allowed to live together even if one of the students was sick. One roommate would go to the dining hall, then deliver their sick roommate a meal. Then, the other would return the favor once the sickness was passed. Eventually, the pandemic subsided with Barb miraculously avoiding the virus.  
After graduating from Clarke, Barb obtained her Master's in Nursing from Marquette University and began a career in nursing instruction, which had long been a passion of hers. Barb served as an instructor of nursing and the Mercy and  Finley Hospital schools of nursing for a number of years. Then, Clarke came calling. The school was looking to add a four-year nursing program and needed Barb's expertise to get the program off the ground. From 1979-81, she traveled to nursing schools throughout Iowa to gather information, interview faculty, and help develop a nursing curriculum. In 1981, the program began with Barb on board as an assistant professor. "I was thrilled to have the opportunity to instill a Clarke education in a group of young nurses, just as my instructors had done during my time as a student," noted Barb. "My Clarke experience had come full circle." 
One of the defining moments of Barb's tenure as a Clarke faculty member occurred in 1984, when a fire destroyed much of Clarke's campus. She still vividly remembers that day: "I had just given a final exam, as the fire happened near the end of the school year. I walked out of a meeting and saw smoke and flames billowing out of one of the campus buildings. I immediately thought of my final exams, which were sitting on my desk in my office. After evacuating, I approached a firefighter and asked if I could go back into my office to retrieve them. He politely informed me I could not. Luckily, my exams ended up being spared because the fire did not reach my office. I just remember spending all day and into the evening watching the flames with other faculty and students." 
In 1989, Barb sought other employment due to Clarke's nursing program going on hiatus. She accepted a teaching position at Northeast Iowa Community College, where she taught until her retirement in 2000. At that point, she was not done learning, however – in the first semester following her retirement, she enrolled in an art history class at Clarke. "I really enjoyed that class because it helped me gain a deeper appreciation for art," Barb recalled. "We even took a trip to the art museum in Chicago, which was wonderful." She also remained involved in the Clarke community by regularly attending Mass and exercising on the Kehl Center track.  
What was possibly the highlight of Barb's Clarke experience did not come as a student or faculty member – it came as a mother. Barb's daughter, Karen, followed in her mom's footsteps and also attended Clarke for her undergraduate and  graduate degrees. Karen's time as a student overlapped with Barb's teaching tenure, and Barb even had the opportunity to teach her own daughter in two classes. "Watching my daughter graduate from Clarke in 1986 with her Master's in Education was one of the proudest moments of my life," said Barb. "I was so happy she chose to go to Clarke. My son graduated from St. Ambrose the next day, so the weekend was special all around."  
Barb Meloy Callahan '60 still lives in Dubuque and attended her 50th Clarke class reunion in 2010. She was married to Charles Callahan for 40 years and became a widow in 2002. She has two children and five grandchildren. She continues to be active in the Clarke community.