Alumna brings families and communities together through music
By Clarke News | June 22, 2022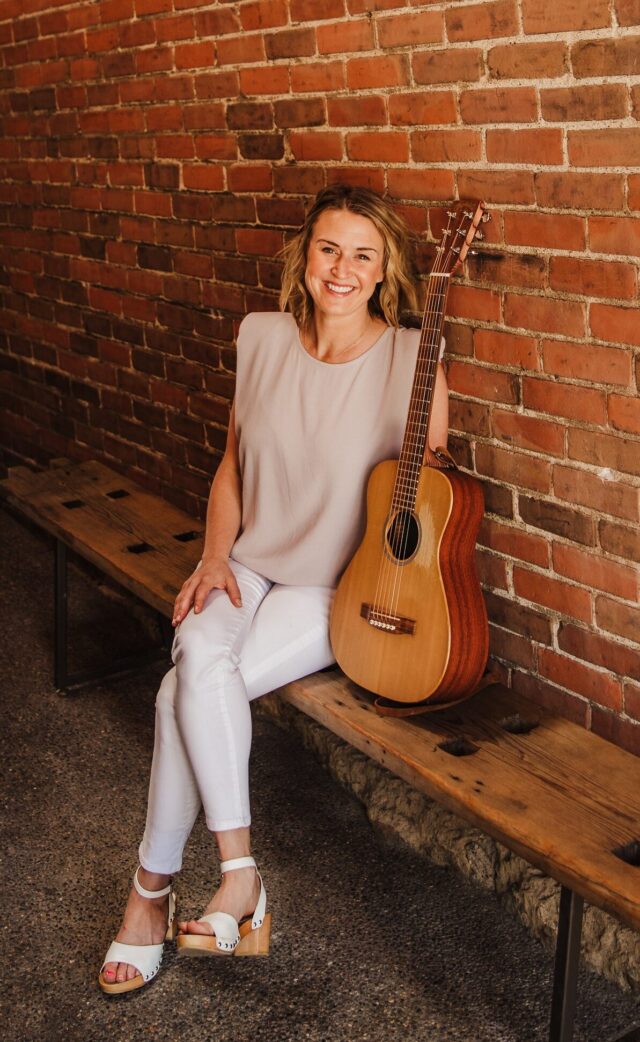 In 2021, Callie (Mescher) FitzGerald '07 had an idea for a business. She knew she wanted to use her experiences as a music therapist to help the Dubuque community but was unsure of how and where to do so. To help concentrate her thoughts, she sat down and journaled about her ideal location: lots of natural light, wood floors, exposed brick, a parking lot or green space nearby, and lots of room to explore art in all its forms, be it music, dance, painting, or more. That same day, her boyfriend (now husband) Kyle, called with a location that fulfilled that dream. 
"I really felt like the location found us – it even sparked our name, Centrally Rooted," Callie said from her office in the renovated space on Central Avenue. "Here, we are right in the heart of it, especially with Fulton Elementary School closing, we can provide a space for children and families to express themselves and build community." 
After buying the building in June of 2021, Centrally Rooted opened to the public in October. With the help of a dedicated staff and community partners – including fellow Clarkies Joe and Jill Klinebriel, Megan Gloss '03, Mackenzie Blagojevic '22, and Naomi Noel '25 – Centrally Rooted now offers private voice and instrument lessons, music therapy, and summer camps. This year's camps include "Circus McGurkus" July 5-7 and "Creative Camping" July 19-21 for elementary-age children, as well as two Musical Theater Dance sessions on July 5-7 and July 19-21 for middle and high school students.   
Of all the offerings, however, Mindful Musicians may be the program closest to Callie's heart. This 8-week program is focused on children ages 0-6 and their caregivers. Through music, movement, and play, participants learn about self-love and confidence building, as well as coping mechanisms for difficult times. Together with her writing partner Scott McDermott, Callie has written and recorded 75 songs for Mindful Musicians and continues to explore new opportunities. 
For Callie, the program came from her own mix of education and personal experience. After earning her bachelor's in vocal performance and music education from Clarke, she completed her Master's in Music Therapy at Colorado State University, with an emphasis on evidence-based, neurological impact. An internship with the Creative Arts Therapy team at the Denver Children's Hospital opened her eyes to the breadth of expression that could help children and she started implementing ideas in her own practice. Shortly thereafter, just seven months after the birth of their daughter Ruby, Callie's partner died by suicide. 
His death jolted me out of that world and brought me back to my family in Iowa," Callie said. "I really started thinking about what's happening in the world, why so many people are choosing suicide as their path. It brought me to the idea that we lack self-love, and a lack of foundational coping skills. I thought, 'I could take this experience and hold it close to me as my own, or I could open up and use my experience to help others.' Thankfully, I have found others who share that mission and purpose.
Beyond the members of the Clarke community who have joined Callie in her mission, she has connected with artists and musicians throughout Dubuque, as well as support from other local women in business through the group Empower Her. Centrally Rooted has also received financial support, including grants from the National Alliance on Mental Illness Dubuque and 100 Women Who Care for a scholarship fund. 
"I'm so proud of our scholarship fund that goes directly to families in this area and grants them access to any of our programs. All they need to do is fill out the application on our website," Callie said. "The work we do here is on-going, not just in terms of us adding new classes and lessons but in that we offer people a space to practice these life skills. Coping skills, emotional expression, it all takes practice in order to feel like you are moving through life in an honest and fulfilling way, and at Centrally Rooted, you can practice those in a meaningful way in a group setting. The more people we can reach, the greater positive impact we can have." 
As her business progresses, Callie hopes to add spaces for crafting, a recording studio, and more. While she has come a long way from a wish list in a notebook, she still has much to strive for. 
"It's my goal to grow Mindful Musicians into something that can be used in schools, as well as with older children," Callie said. "As for Centrally Rooted, as the space takes shape, I am open to anything. Yoga, dance, art – if you have a mission to help other people build their confidence and community, there is a place for you here." 
Learn more about Centrally Rooted at https://centrallyrooted.com or visit them at 2230 Central Avenue in Dubuque, Iowa. There is still time to sign up for their summer workshops, as well as future offerings like adult and teen acting workshops, art lessons, and events.