Alumni Spotlight: Jessica DuBord '17, '20M
By Clarke News | February 1, 2023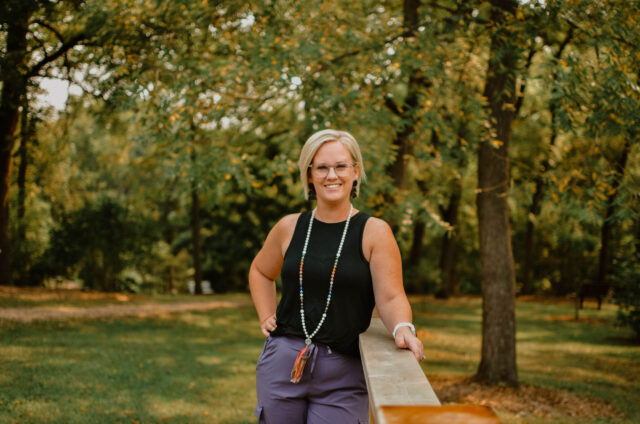 Clarke: What has life looked like for you since your time at Clarke? 
Jessica: I am currently a 4th grade teacher at Prescott Elementary School here in Dubuque Iowa. I am also a member of our building leadership team. This allows me to help support the teachers and students in our building in new ways. I work closely with other staff to ensure that our school goals are being implemented. I have also worked closely with new teachers and supported them in their first year, as well as professional development for all our teachers. 
I have also recently been asked to sit on the board for Mindful Minutes for School. Mindful Minutes for Schools is a non-profit that works to get yoga and mindfulness teachers and curriculum into schools. 
Clarke: You've worked hard to establish yourself as a leader and you'll be sharing some of your journey in your upcoming Mackin-Mailander lecture at Clarke, "Work in Progress." Can you give us an idea of what you'll be talking about? 
Jessica: I have had to overcome many, many challenges to get to where I am today. I believe those experiences have helped to shape me as a person, friend, teacher, leader, and more. One of the biggest challenges I had was going back to school in my 30s. I was married and had five kids when I started at Clarke. I was able to juggle being a mom, working and going to school. When I graduated with my bachelor's degree in elementary education, I knew that I needed to keep going. So, I continued with Clarke and got my Master of Arts in Education.  
Looking back, I'm often amazed at how I was able to accomplish all of that. Taking the step to go back to school was huge for me. I faced lots of anxiety going into it. However, it was the best decision I've made. In sharing my story, I want to help people realize it is never too late to try for something you have always wanted. You never know, it may be the best decision you have ever made! 
Clarke: Life as a non-traditional student has a lot of challenges – how did you stay motivated? 
Jessica: Clarke was such a welcoming place. I was nervous to start at Clarke because most of the students in my classes would be closer to my daughter's age than mine. However, every student and staff member welcomed me with open arms. I felt included even though I didn't live on campus.  
I also knew I could rely on my husband and my family to support me as I pursued this dream.  When I went back to school at Clarke I had five young children. My husband also had a job that required him to travel throughout the week. It made going back to school more complicated. However, every person in my family stepped up to support me. If I needed time to study or work on any school work, my kids and husband would give me the time and space I needed. They were also some of the best cheerleaders around! They would celebrate every good grade and test, and everyone could hear them cheering at commencement. There is no way I would have made it through without them! 
Clarke: You've remained connected to Clarke, while also becoming more involved in the Dubuque Community. Why is that important to you? 
Jessica: I learned through the course of my life that it is never too late to create the life you want. I work hard to share that with others, especially by creating a learning environment in my classroom where all students feel safe and supported as they grow and learn. I have been lucky enough to host a couple of students teachers from Clarke, and I want them to experience that learning environment too. I have also had the privilege of having Clarke education students come into my classroom to teach social studies as part of the Professional Development School. I know first-hand how important the hands-on teaching experiences through Clarke's PDS blocks are, so I'm happy to provide those experiences to others.  
Outside of work, I have been excited to take over coordinating a mission trip that our church takes every year. Our church has been going on this mission trip for almost 30 years. I was lucky enough to go when I was a youth and now, I get the privilege of coordinating it and taking youth and adults each summer. In all that I do, I want to help others become who they want to be.  
Clarke: Final question – what's next? 
Jessica: My hope is that in the next few years I will transition from a classroom teacher to an instructional coach. I want to be able to support and guide teachers through all of the challenges that come with teaching. 
Thank you for sharing your story with us, Jessica! Do you know a member of the Clarke alumni community we should highlight? Submit your nominations for a future Alumni Spotlight by emailing alumnirelations@clarke.edu.