Author George R. R. Martin Visits Campus
By Clarke News | April 26, 2023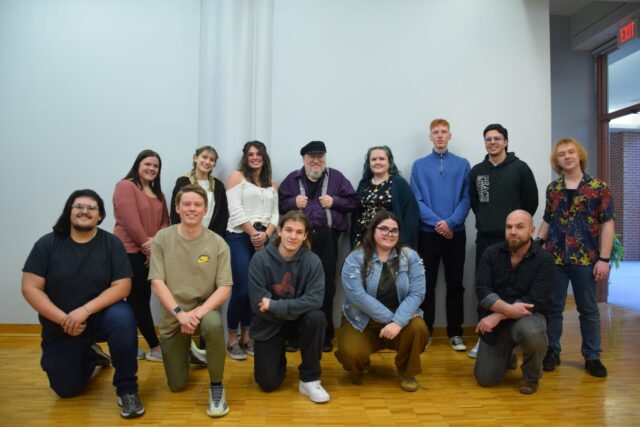 Today, Clarke was privileged to offer a special luncheon event where students were able to meet with novelist and screenwriter George R.R. Martin.  
George, who wrote the popular Game of Thrones book series and was instrumental in their adaptation for television, shared his insights and answered questions about the creative process, the influence of technology on storytelling, and more with 13 students interested in writing, filmmaking, and other artistic endeavors. 
"It's really cool to know that he worked here, continued in his field and became this huge literary figure," said Psychology major Lauren Spangler. "I love to write and would like to become a professor one day, so to meet someone who took that path is inspiring." 
"To meet someone who has found success on that level, to hear their creative process and get an idea of how they think is so valuable," added Music Composition major Sam Wright. "It gives you insight and ideas of how to bring your own visions to life."
George was a professor at Clarke College from 1976-1978 and has maintained an affinity for Clarke and the city of Dubuque. He shared with students how Dubuque landmarks made their way into his writing, such as Pickett's Brewery or the Fenelon Place Elevator.  
"Pulling from your own experience helps make your setting come alive. It's especially important in science fiction where you have to help your audience imagine this place," George said. "Sure, you could write about a guy living out in the suburbs, but when your character lives in an abandoned brewery and you can describe the look and feel of the bricks, that helps people connect."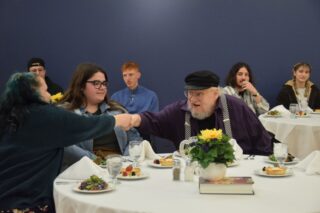 If you'd like to see more from George, he will be attending the Julien Dubuque Film Festival April 26 and 27 for showings of his short sci-fi film "Night of the Cooters," wherein aliens invade Texas in the 1800s. Learn more and purchase tickets for the event at https://julienfilmfest.com/.