AVIE Scholars Support Boys and Girls Club of Greater Dubuque
By Clarke News | June 8, 2022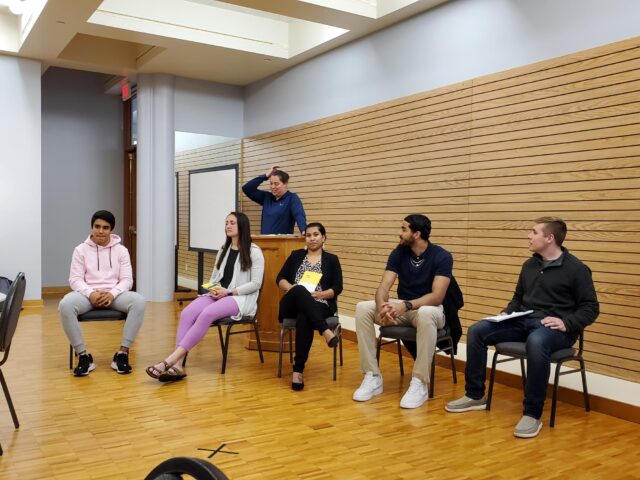 Each year, Clarke students volunteer hundreds of service hours on campus and with our community to advance the common good. To recognize this and empower students with the financial means to increase their impact, Clarke offers the Activism and Values Informed Education Compass Award.
Established by Clarke University alumna Jenifer Westphal '84, the award is given to five students to fund a project that addresses the systemic challenges of racism and oppression in our community while helping those students develop critical skills such as communication, professional preparedness, thinking, global awareness and social responsibility, and spirituality.
The recipients of the 2021-2022 AVIE Award were:
Parker Jeppson '22
Keith Johnson '22
Marlynn Larron '23
David Palma '23
Rebecca Schroeder '22
For the 2021-2022 school year, the AVIE Scholars partnered with the Boys and Girls Club of Greater Dubuque on the "Diplomas 2 Degrees" project, which helped middle school students envision a path to high school graduation, college, and beyond. The program included multiple sessions, all designed and guided by the AVIE Scholars.
First, middle school students were invited to campus on April 11 and 12 for special tours of Clarke, including small group sessions where they could ask questions and talk with the AVIE scholars and Clarke student athletes about life in college.
Next, the AVIE Scholars hosted an event at the Boys and Girls Club on April 26 as part of Clarke's "One Clarke, One Community Week." Children and their families decorated flowerpots and listened to stories read by the Clarke students during the event. By focusing their event on sustainability, the AVIE Scholars hoped to help local families draw a deeper connection to Clarke, Dubuque, and the world around them.
For Keith Johnson, a Biology and Mathematics major who grew up in Dubuque and attended the Boys and Girls Club as a child, volunteering with the children and their families was a meaningful way to give back to his hometown and community.
"What an awesome opportunity to be able to work with such a great group of kids and to cap off my time with Clarke," Keith said. "Something I like about the Dubuque community is that you make bonds with people that last a lifetime. It is a smaller city, so everyone knows everyone. We are one community, one Clarke, one family, and I'm so grateful for my experience here."