Biostatistician Makes an Impact
By Clarke News | August 17, 2022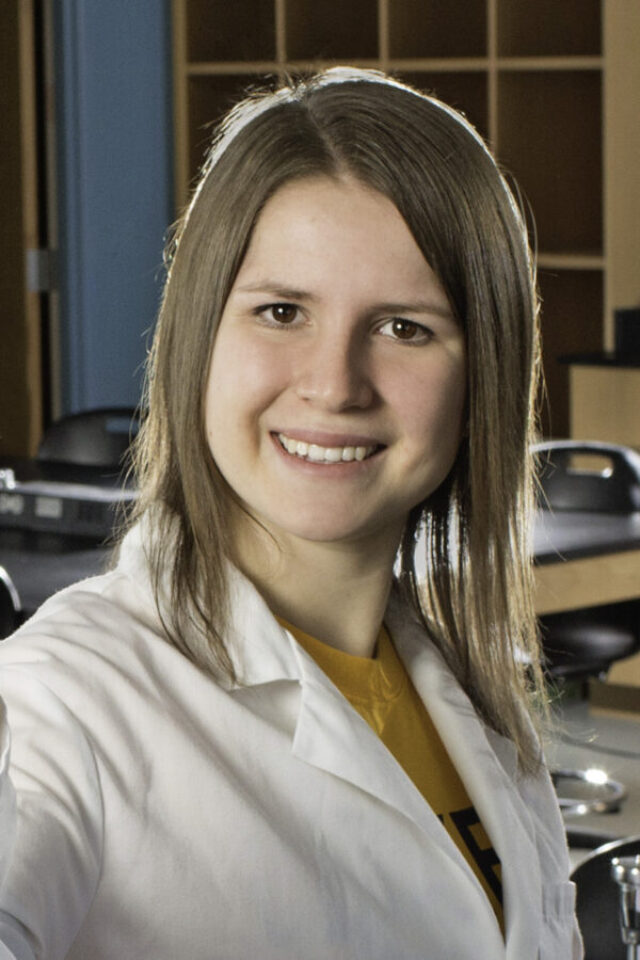 There aren't many people who would take an upper-level mathematics class for fun, but Ellie (Northrop) Palzer '17 decided to take a chance. What started as a schedule filler would set her on a course that still impacts her career today. 
"In that first class, the professor, Sean Bradley, had us move our desks to form a circle each day. By having us sit in a circle, the class felt more like a study group where each of us was helping each other understand the material. It was such a unique atmosphere," Ellie said. "That class convinced me to double major in Mathematics and Biology." 
Over the next four years, Ellie excelled through both programs, as well as in her roles as captain of the soccer team and a trumpeter in the band. She even worked as a coach in the Writing Center, proving to be a multi-talented and well-respected member of the Clarke community. After graduating from Clarke, she earned a spot in the University of Minnesota's competitive Biostatistics Ph.D. program, where she conducts analysis for medical studies.  
"While taking classes and completing the requirements for my Ph.D. program, I've had the opportunity to work alongside doctors and researchers on a variety of medical research projects. As a result, I have 27 published peer-reviewed journal articles, which is extremely rare for a graduate student to have so many. I have published on a variety of topics including childhood obesity, neurosurgery, neonatology, and organ transplantation," Ellie said. 
When I work on a project, a doctor or researcher comes to me with a dataset and a research question. I run the analysis, but then I need to explain to the doctor what I did, the results, and how to interpret those results," she added. "Explaining statistics to non-statisticians is a large part of my job, and Clarke prepared me extremely well compared to other institutions. 
Ellie has also celebrated many achievements outside the lab since her time at Clarke, including getting married and starting a family while in graduate school. She is now expecting her second child, who is due shortly after she defends her dissertation this December.  
"My family has been my biggest motivator as I work on my dissertation. I am so proud and grateful for them, and all that I've accomplished," Ellie said.