Campus Ministry Finds Strength in Service
By Clarke News | April 21, 2023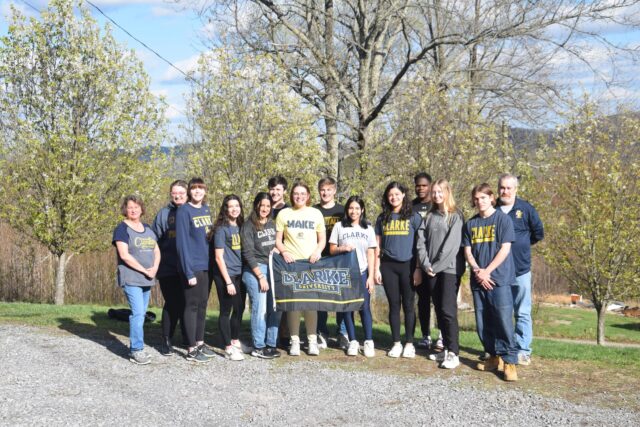 While many Clarke students were enjoying their first day of spring break, 12 young women and men gathered behind Mary Josita Hall on March 11 to begin the 12-hour drive to Rutledge, Tennessee. Along with three Clarke staff members as their chaperones, these students dedicated the next four days to serving in Appalachia, one of the poorest regions of the country.
"I chose to go on the service trip because I wanted to create a deeper connection to my faith and to those who feel a shared purpose," said Emma Kanne, a sophomore from Gretna, Nebraska. "I was nervous, especially when Sister K [Kathleen Sinclair, BVM] had to leave early for a family emergency, but even the short time she was with us, she was inspiring. She is a bright spirit with a can-do attitude, and we tried to incorporate that into our work all week."
Upon arrival, the group met with representatives from the Glenmary Home Missioners, who were their hosts and guides around the area. The volunteers would be broken into three groups and rotated through several service opportunities throughout the week, yet the lessons began even before official service work started.
"That first day, we went grocery shopping, and each team was tasked with getting ingredients to prepare breakfast and dinner for 20 people on a budget of just $85," Emma said. "It was a struggle, and this is something people in the region face every day."
It gave me a greater appreciation of what I have, but also a greater understanding of why I must give what I can.
Emma Kane '25
Projects throughout the week included working at a local food pantry and aiding elderly and disabled individuals in the area as they chopped wood, demolished a fallen barn, and constructed a wheelchair accessible ramp. It was demanding, physical labor, yet the chaperones found they could not pull the students away.
"There was one day during the barn deconstruction that we were supposed to end our day at 3 p.m. and the students kept working until 4:45 p.m.," said Bailey Strait, Clarke's Social Media Manager and a chaperone for the trip. "Each night we held a reflection with the students and spirits were high. They were humbled and very aware of the gratitude in the community."
Outside of their service learning, students were also able to explore the area. One of the highlights included a visit to Joppa Mountain Pottery, an acclaimed pottery studio in the region. They also built deeper connections to the community, such as attending a bilingual mass where first year student and native Honduran Renata Aguilar offered a psalm in Spanish.
"There were so many memorable moments from the trip – between getting to know the residents and getting to know my classmates more, it really drove home how important community is," Emma said. "I want to continue to build that sense of community at Clarke. Sister K and the students in Campus Ministry are so accepting, I'm looking forward to getting more involved each year."
If you'd like to learn more about Campus Ministry programming at Clarke, visit clarke.edu/campus-life/spiritual-life/campus-ministry/.