Cascade High Graduate Finds a 'Second Home' in Dubuque
By Clarke News | December 16, 2021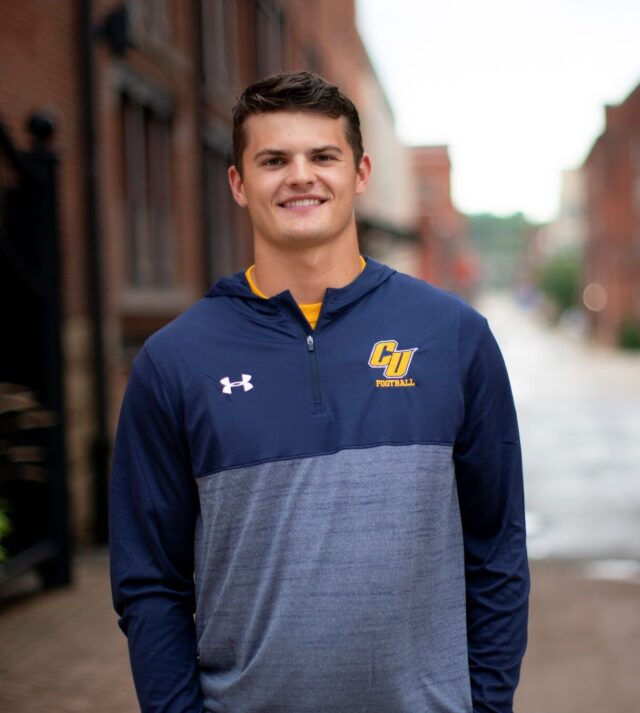 Although Logan Otting '22, grew up in Cascade, Iowa, he considered Dubuque his second home. Being active in sports and in his community, he was often in town four nights a week. While he loved the area, he was convinced that to have a "real" college experience, he had to move away from home. After two years at Iowa State University, he realized that it wasn't where you learned, but the community around you that made all the difference.  
"In the classroom, it's been day and night. The professors at Clarke really get to know you here, they invest in you," Logan said. "I had a professor tear up a little bit about the thought of the semester ending and not seeing us, and that hits you. Your professors, your classmates, they really care." 
In transferring, Logan's priority was ensuring all his credits were accepted so he could still graduate on time with his Business Administration degree. Beyond that, he wanted to find a way to get involved in the campus and Dubuque community. Clarke's growing football team presented a perfect opportunity. 
When I decided to transfer, I wanted to go somewhere I could make an impact. There were other places I could have played football, but at Clarke I was building a culture. I could do something that was going to help others and this community. Looking back on our season this year, it's about more than our record. I saw so much growth in myself and my teammates, not just on the field but in the classroom and how we carry ourselves as young men.
Through football and other campus initiatives, Logan has served meals in area churches, volunteered at the Dubuque Rescue Mission, and helped others on campus in ways large and small. For Logan, it's all about helping his team – whether they are on the football roster or not. 
"Football motivates me to do well in school, and that team atmosphere is in the classroom too. With the small class sizes, you get to know people and care about them. You don't want to let them down, so you show up and give your best effort," Logan added. "I want to get involved on campus to make my presence and my leadership known. This is such a close-knit community I want to take advantage of all the connections available to me." 
"Something brought me here. Yes, I came for football, but I've stayed for the relationships. You get a top-notch education, amazing people, and powerful connections. It's a unique place and I am fortunate to be here."