Clarke brings innovation to learning through open educational resources
By Clarke News | October 13, 2022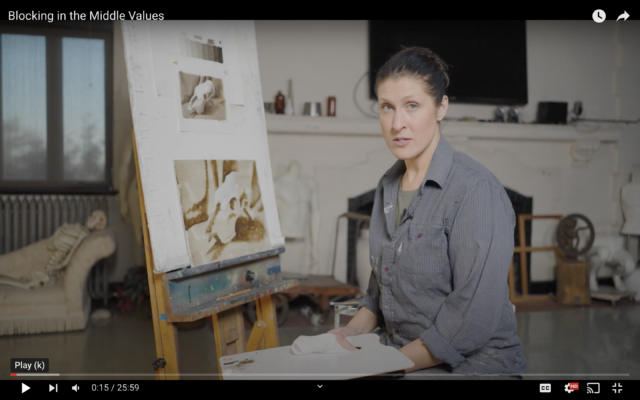 Thanks to a series of grants and the leadership of faculty across a variety of disciplines, Clarke University is contributing to the greater landscape of education through open educational resources.  
Open educational resources are materials that are in the public domain or have been released under an open license and can include everything from full courses to sections of textbooks, lectures, or assessments. These tools are then accessible to learners locally and internationally for no or minimal cost. 
Faculty from Clarke's Psychology, Studio Art, and Biology departments have developed several of their own open educational resources, thanks in part to funding from the Iowa Private Academic Libraries (IPAL) and the guidance of Clarke's Resource and Metadata Librarian Jenny Parker. 
Following a grant from IPAL, Associate Professor of Art Jessie Rebik was able to develop professional quality videos demonstrating techniques for her Painting I and II courses. The videos, found at "Jessie Rebik Studio" on YouTube, have been beneficial to students who need to miss class for athletics, illness, or other events, as well as those who simply want a refresher outside of class hours. Although they are tailored to her classes, Rebik's instruction is applicable and accessible to anyone who wants to explore oil painting. 
"Originally I was creating my own demonstration videos, but without proper lighting and edits, it was easy for viewers to miss the nuances," Rebik said. "With the grant funding, I was able to produce professional quality videos that a learner can watch on the bus or after their children have gone to sleep. They've been positively received by students, and I hope they can help others in the community as well." 
Positive feedback has been echoed for open educational resources developed for Psychology and Biology courses as well. Associate Professor and Chair of Psychology Tim Boffeli has been able to share his materials for his Introduction to Psychology course with colleagues at Northeast Iowa Community College and Michigan State University.  
Professor of Biology Andrea Bixler and Associate Professors of Biology Laura Birch, Shaun Bowman, and Laura Hecker were able to pull some open educational resources from the University of Wisconsin-Madison and tailor them to the needs of their own first-year students as they learn the rules of scientific writing. In turn, their guidelines are now being adopted by local high school teachers to prepare students for college. Perhaps most importantly, these resources also cut down costs for students at Clarke and beyond. 
We were using some great textbooks, but they were prohibitively expensive for many students. There's no point having even the best resources if some students can't access them. By creating our own resources, we know all students have access to everything and that it applies to what they are doing in the classroom.
Andrea Bixler, Professor of Biology
Now, others at Clarke are exploring the opportunities open educational resources provide. Professor of English and Chair of the Society, Culture, and Discourse department Ann Pelelo and Assistant Professor of English Steve Bellomy were recently selected to join the Iowa OER Community of Practice through the Iowa Open Education Action Team. This collaborative environment brings educators from across the state together to explore and improve the resources available to our colleges and communities.  
"I felt compelled to continue down a path I had very limited exposure to because such resources can benefit both faculty and students, and, of course, because I believe firmly in Clarke's mission of life-long learning," Pelelo said of her involvement. "Being able to collaborate with others in our field allows us to delve more deeply into what is available for introductory literature courses. More knowledge may lead us to update, adapt or create a new open textbook for such courses." 
"Student needs are changing. I think, if incorporated with intention, OERs could enhance the student experience and create a stronger sense of communal learning in the classroom," Bellomy added. "From a practical perspective, it could also save the students money and provide faculty with a guarantee that all students will have the required materials on the very first day of class. More importantly, our students will benefit from our pedagogical intentionality."