Clarke Celebrates First Annual Campus Christmas Tree Lighting
By Clarke News | December 5, 2018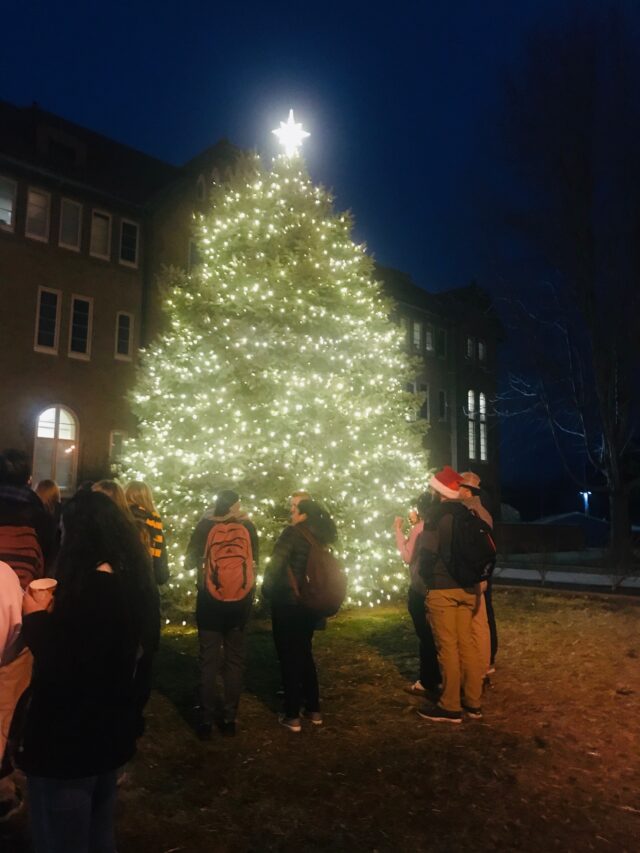 Clarke University is a campus community steeped in long-standing traditions. This holiday season, Clarke celebrated a new tradition with the first annual Campus Christmas Tree Lighting ceremony.
The event was held on the lawn of Mary Frances Hall the evening of Thursday, November 29. Those in attendance were treated to hot cocoa, cookies, and caroling.
The adorned tree is a 30-foot Blue Spruce named "Elephant" by the class of 1997. According to Joel Leach, Assistant Director of Facilities, approximately 100 strands of LED lights were strung with a total of about 4,500 bulbs they placed a three-foot illuminated star at the top.
Leach said, "I wanted to begin the act of lighting the tree because I think it is fun way to help the campus kick off the Christmas season, and I'm hoping it is a tradition that we can continue to grow."
The president of Clarke's Student Association (CSA) Sydney Eustice said, "When Clarke celebrates the holiday season, it adds a home-away-from-home feeling to being at school. The holidays are a time for people to come and celebrate together, and the Clarke community has the ability to do just that. The holidays are reminders of home, and to all of us here, Clarke University is home."
Clarke President Joanne Burrows, SC, Ph.D., shared, "Over the past 175 years, Clarke University has honored many wonderful traditions. In this festive season, we welcome a new tradition, the Annual Campus Christmas Tree Lighting. Our campus tree shines brightly and celebrates the gifts of the Clarke community near and far. From Clarke University to you and yours, Merry Christmas."
Eustice also thanked those who made the event possible, including Clarke University's Dining Services, the Office of Engagement & Intercultural Programs, Residence Life, Campus Ministry, the Clarke Student Association, and the Facilities staff, especially Leach, who encouraged the students to begin this tradition.