Clarke Celebrates National Transfer Student Week October 17-21
By Clarke News | October 10, 2022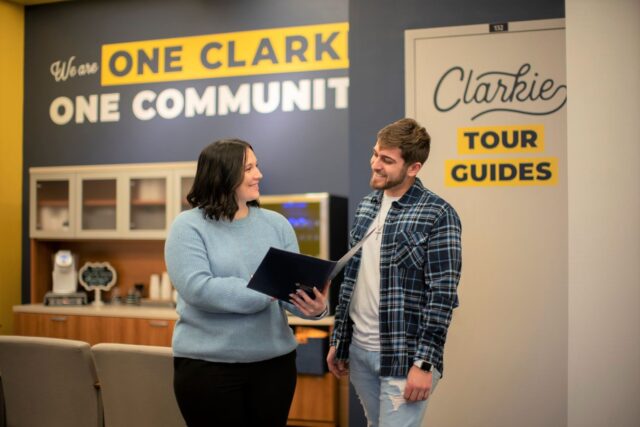 In conjunction with the National Institute for the Study of Transfer Students, Clarke University is proud to recognize National Transfer Student Week, October 17-21. 
Held each year during the third week in October, National Transfer Student Week acknowledges the unique insights and experiences transfer students can bring to an institution, and celebrates the dedicated professionals who help them find the school that is right for them. Throughout the week, Clarke transfer students and staff will be recognized on campus and on social media.  
"Transfer students bring a wealth of experience to our community, and we work hard to ensure each student finds the path that best suits their unique needs," said Assistant Director of Transfer Admissions Grace Burds. "We continue to grow those opportunities through initiatives like our dual enrollment program with Northeast Iowa Community College, which allows a student to take both NICC and Clarke courses on their way to a four-year degree." 
In fall 2022, nearly 25 percent of new Clarke students were transfers. This growth comes in part from the transfer partnerships and opportunities the Admissions team has developed in recent years, including the CC Today, CU Tomorrow agreement with all 15 of Iowa's community colleges, reverse transfers, and other articulation agreements. The university's efforts have also earned them a spot on the Phi Theta Kappa National Transfer Honor Roll two years running.
That flexibility and innovation have paid off for students like Logan Otting '24 from Cascade, Iowa, who after attending a larger public institution, decided he wanted something closer to home. 
When I decided to transfer, I wanted to go somewhere I could make an impact. In the classroom, it's been day and night. The professors at Clarke really get to know you here, they invest in you. You get a top-notch education, amazing people, and powerful connections. It's a unique place and I am fortunate to be here.
Logan Otting '24
At Clarke, transfer students not only get personalized attention and support, but they are also eligible for scholarships such as Phi Theta Kappa National Honor Society awards and the CARE Society scholarship. For the CARE Society, any transfer student referred to Clarke by a Clarke alumna/us is eligible for a $1,000 scholarship that's renewable each year.  
Do you know a student who should consider Clarke? Refer them through the CARE Society today at clarke.edu/alumni/care-society.