Clarke Named Tree Campus USA for Ninth Consecutive Year
By Clarke News | April 22, 2020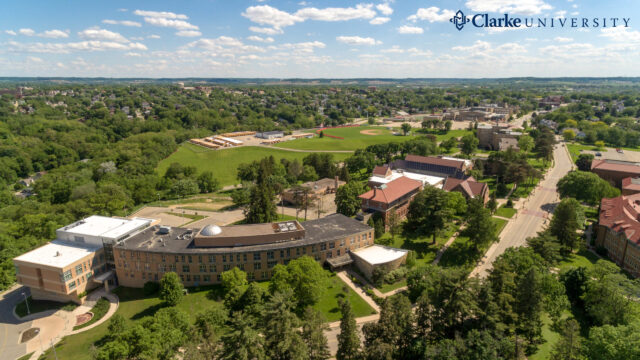 The National Arbor Day Foundation and the Iowa Department of Natural Resources – Forestry Bureau announced that Clarke University has received the 2020 Tree Campus USA award. It is the ninth year in a row that Clarke has been named a Tree Campus USA.
As a tree campus, the university commits to doing the following: plant at least six trees per year, have a budget dedicated to tree care and maintenance, complete service learning projects related to trees, commemorate Arbor Day annually, forgo cutting down trees unless strictly necessary, and institute a tree advisory council and tree care plan.
Tree Campus USA is a national program created in 2008 to honor colleges and universities for effective campus forest management and for engaging staff and students in conservation goals.
"Clarke's recognition as a Tree Campus USA designee reflects the deep connection the Clarke community has to our landscape," said Clarke Assistant Director of Facilities Joel Leach. "Our historic trees, heritage trees, and our annual tree care program embody this connection by demonstrating our commitment to carefully steward a priceless campus feature. To be one of only a handful of schools in Iowa with this designation reflects our ambition to be sustainability leaders rather than sustainability followers."
Clarke University is committed to sustainability in other ways, as well. In addition to maintaining a Tree Campus USA status, Clarke also installed water bottle filling stations, maintains recycling bins, uses energy-efficient lighting, offers community gardens to faculty and staff, and installed energy-efficient washing machines resulting in 24,000 gallons of water saved each month.
More information about the Tree Campus USA program is available at arborday.org/TreeCampusUSA. For more information about Clarke's award, contact the Clarke University Marketing and Communication Office at (563)588-6495.