Clarke Revives Historic Computer Science Program
By Clarke News | August 11, 2022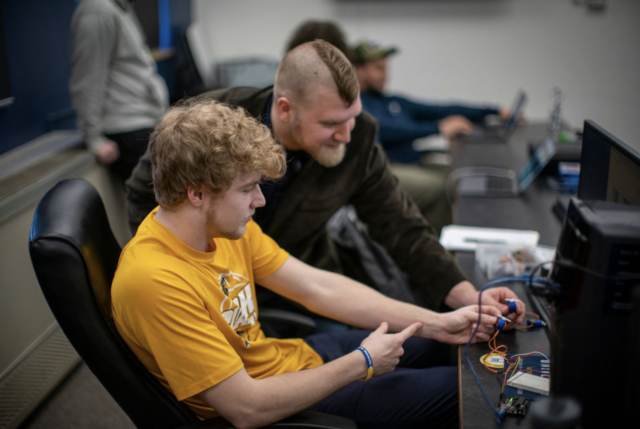 In response to growing needs among local and national industries, Clarke University has reinstated its Computer Science program. Starting in Fall 2022, students may now earn a Bachelor of Arts in Computer Science or minor in the popular field.  
"This is a shift that will give our current and future students the skills they need to fill the demand for computer science expertise throughout the region," said Program Head and Assistant Professor of Computer Science Joshua Moris. "The Bachelor of Arts gives them experience across a wide variety of areas, while pairing technical experience with problem-solving and ethical decision-making skills that are needed in so many industries." 
The Computer Science program places a heavy emphasis on hands-on experience for students, with each class contributing to a student's overall expertise. It has also been designed to pair well with a second major or minor, on top of its' strong partnership with varsity athletics, like with Clarke's esports program. Upon graduation, students will also have a digital portfolio to showcase their work and quantify their experience for potential employers.  
The move is also a reclamation of part of Clarke's history. BVM Sister Mary Kenneth Keller was the first woman and one of the first people in the United States to earn a Ph.D. in Computer Science and established one of the earliest computer science programs in the country at Clarke. By centering her teaching and research at what was then a women's college, she also ushered new and diverse perspectives into this important field.  
The legacy of Mary Kenneth Keller remains an integral part of the Clarke experience today, as our classes seek to push the boundaries of technology while inspiring personal development and exploration," Moris said. "With the coaching and mentoring we've built into this program, graduates will be prepared for roles involving database administration, web development, information security — even some positions that don't exist yet.
To learn more about or apply to the Computer Science at Clarke program, contact our Admissions Office by phone at (563)588-6316 or email at admission@clarke.edu, or visit clarke.edu.