DRA Donates $12,500 Grant for Food Science Labs
By Clarke News | September 28, 2017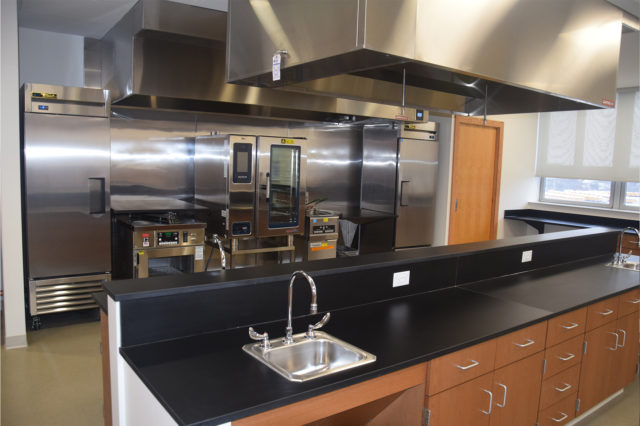 Clarke University received $12,500 this spring from the Dubuque Racing Association (DRA) for their Food Science Labs, which are the first of their kind in the tristate area. The space includes a food preparation and processing lab, sensory evaluation lab, and a food analysis lab. Funding from the DRA enhanced Clarke University's new Food Science Labs and allowed them to purchase specialized equipment and supplies. The food science major at Clarke is offered within the chemistry department. According to the U.S. Bureau of Labor and Statistics, food science is a growing occupational field in this country.
Associate Professor Chemistry Karen Glover, Ph.D. said, "We are extremely grateful for the DRA's generosity. Because of their help, students are able to learn the science behind food preparation and processing, gaining hands-on experience in research and development."
The goal of the food science program at Clarke University is to provide students with fully equipped and functional food-safe labs. The equipment purchased with DRA funding is essential for providing students with hands-on learning opportunities. This learning environment provides students with the skills and knowledge needed to be well-prepared as they enter the workforce. A top-notch food science facility better positions Clarke University to recruit future food science majors.
Clarke's food science program requires students to complete internships with local food industry businesses, creating impactful collaborations within the industry. The food science curriculum includes food processing and preservation, product development, subjective and objective quality evaluations, food chemistry, safety and sanitation, sensory science, nutrition, and food service management.
Dubuque is a major center of food production and processing, ingredients manufacturing, and food-related entrepreneurism. The food science sector is a key area for growth, as identified in the Greater Dubuque Development Corporation's (GDDC) current marketing plan. According to the GDDC, 68 companies within 90 minutes of Dubuque are related to food science, and there are 498 food processing-ingredient companies headquartered in Iowa and five surrounding states.
Clarke University has a long-standing relationship with the DRA that dates back to 1997, and the DRA have been very generous in helping fund Clarke's projects.
Clarke University is a Catholic, liberal arts and sciences university dedicated to preparing students who positively impact their workplace, family and community. Academic offerings include more than 40 undergraduate liberal arts and pre-professional programs, and six graduate degree programs. Founded in 1843 by the Sisters of Charity of the Blessed Virgin Mary, Clarke is located near the Mississippi River in the thriving city of Dubuque, Iowa. It is the only BVM university in the country.