Clarke's Earth Week Initiatives Connect the Community
By Clarke News | April 24, 2023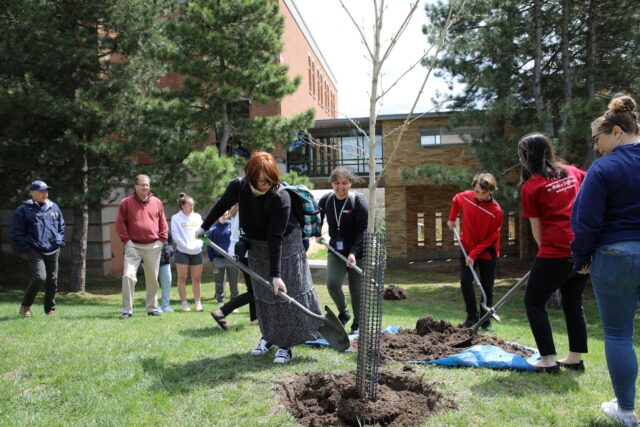 In accordance with our recent commitment to Laudato Si and in celebration of Earth Week, Clarke will take part in a variety of events focused on ecological and social justice throughout April, spanning from the classroom to the broader community. 
One of the first initiatives was the #MakeClimateAClass movement led by Clarke students and bolstered by Clarke's Sustainability Committee. Joining a global effort, individuals across campus strove to bring more discussions of climate change and its effects into the classroom. These conversations were not contained to environmental sciences courses, but spanned several disciplines, including English, Social Work, and others. 
Additionally, tabling events were held throughout the week to educate the community about sustainability efforts happening on campus. This includes the Facilities team's work to earn Tree Campus USA status and create thriving community gardens, as well as the Dining Hall testing new reusable to-go containers for faculty and staff, with plans to expand the option to students in the 2023-2024 academic year. The celebrations on campus culminated in a tree-planting ceremony on Friday, April 21. Students and employees had a chance to submit names for the State Street Maple, and ultimately "Champion" was chosen in honor of the Clarke Women's Basketball Team's NAIA National Championship title.  
Members of the Clarke community also took their collaborations off campus by participating in the Climate Action Festival on Wednesday, April 18. The event brought together volunteers from the Dubuque Colleges Sustainability Coalition, representing nine different institutions of higher learning in our area, to educate the community on ways to make environmentally and socially sound choices in their everyday lives.  
Focused on sourcing food responsibly, the event allowed area colleges and organizations like The Dubuque Farmer's Market, Sinsinawa Dominican Collaborative Farm, and others to showcase green efforts happening around Dubuque. Dr. Silvia Secchi, Professor of Geographical and Sustainability Sciences at University of Iowa, also presented on sustainable practices in agriculture and food systems in Iowa. 
So often we think that our individual choices don't add up to make a real impact on climate change or the world around us, but that's just not true. Food is a communal experience in many ways, so having conversations around growing and sourcing our food responsibly is a great first step and benefits individuals, families, and communities alike.
Joshua Chamberland, Chair of the Dubuque Colleges Sustainability Coalition
Clarke University students and employees will also take to the streets Friday, April 28 for Dubuque's Days of Caring, volunteering for street clean-ups, service at area churches and food missions, and more. Days of Caring also provides opportunities to welcome volunteers to the Clake campus for service work beautifying the grounds or sorting long stored or broken items to be recycled or repurposed. This refreshing day of activity is also an excellent prelude to Clarke Fest, Clarke's annual block party that invites those throughout Dubuque to celebrate Clarkie culture and our shared commitment to the common good. 
These are just some of the ways Clarke leads environmental and social justice work now and into the future. If you'd like to learn more or get involved, visit clarke.edu/sustainability.