Community of Support, Close to Home
By Clarke News | July 22, 2022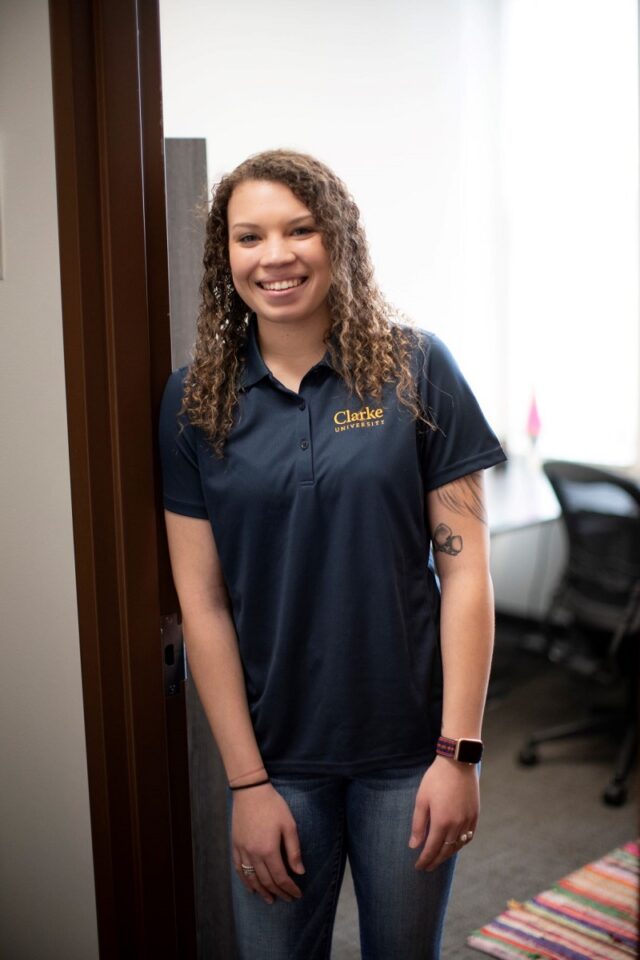 Growing up in Janesville, Wisconsin, Jaida Kroning '22 had many close connections to her hometown. By choosing to attend Clarke University in Dubuque, Iowa, she was able to call on those relationships during the highs and lows of life, while also learning valuable skills through Clarke's Social Work program to benefit the community she loves.  
"My family and my friends were there to support me no matter what," Jaida said. "Whether it was on the volleyball court or through my studies. College can be stressful at times, so having them close while also getting to make new friends and have new experiences was important." 
Jaida quickly developed connections across the Clarke campus and Dubuque that helped her feel at home in her new city. She was a leader in the classroom, such as being selected for the Future Women in Leadership program. She also volunteered with the Clarke Association of Student Athletes and the Boys and Girls Club of Greater Dubuque.  
One of the most meaningful experiences, however, was her internship with The Riverview Center, a nonprofit agency committed to providing compassionate, client-centered care for individuals affected by sexual assault in Iowa. 
"The Riverview Center was such a good experience because I was able to take what I learned in my social work classes and apply it. You're working with real people, rather than peers in the classroom," Jaida said. "My faculty was able to help me find an organization that matched my interests and availability, so the experience really fit with my overall college experience and future goals." 
Now Jaida is working closer to home and specializing in the support of children, families, and child well fair, while also completing her master's degree. And while life may have drawn her back to Wisconsin, her ties to the Clarke community will stay with her for a lifetime. 
"The professors are all so supportive, they give you feedback and will talk through any issues you come across, not just related to class but things you experience in the field and in your own life," Jaida said. "Even after graduation, I know I can count on their support."