Digital Design Opens a World of Possibilities for Local Graduate
By Clarke News | May 11, 2022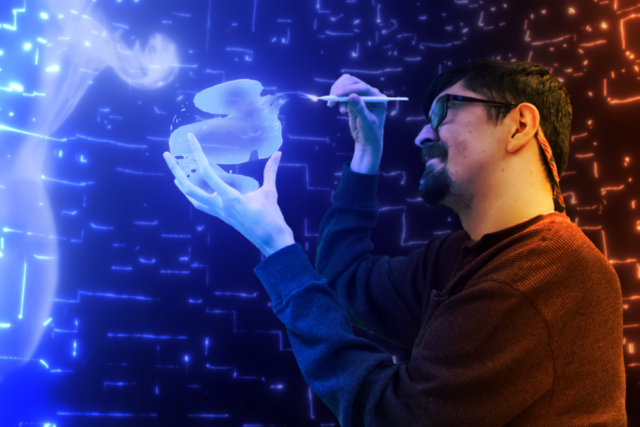 It's been four years since Parker Lippstock graduated from Hempstead High School in Dubuque. Now, as he prepares to walk across the stage to receive his Bachelor of Fine Arts from Clarke University, he is reflecting on those years as a time of tremendous growth and change. 
"At the time, I knew I wanted to explore art, but I wasn't sure what that was going to look like. My art teacher, Sarah Hilby, recommended Clarke for its depth and breadth of knowledge," Parker said. "Going through the program, I really appreciate that there is a degree of professionalism and maturity to the people here, but also this sense of a tight-knit community. The professors, especially Louise Kames and Eric Wold, demand the best of you and they are so passionate it drives you to do and learn more." 
Over time, Parker was drawn to Graphic Design, and was able to explore the field through classes, as well as his involvement in The Tenth Muse, Clarke's literary magazine. Not only has he been able to sharpen his design skills, but his involvement granted him valuable work experience, like designing on a deadline and working on a team.  
"I love design, but I must admit layout is not my favorite. I set up the Prose section of this year's magazine and then Diego Arenas '22 worked on Poetry and he helped bring our sections together. "I've learned a lot from him and each and every one of my other classmates, and I like to think I've done the same for others in the program," Parker said. "In the Art + Design area, we are really like a family. The professors and your classmates will push you, and they are also there to help in any way."   
That sense of family took on new meaning during COVID-19. It was a particularly turbulent time for Parker, who has Marfan's Syndrome, a rare genetic disorder that affects connective tissue like the eyes, heart, and lungs. Not only was he at high risk for COVID-19 complications, but he was still recovering from a hemorrhage in his right eye. In 2021, his eye became infected and he had to undergo a risky operation. Though he had to take a break from classes for a time, he returned to Clarke and persisted with the help of the Art + Design department. 
It was tough, but even virtually my classmates and professors were so supportive. They worked hard to include me and gave me meaningful critiques and feedback on my work," Parker said. "Really, working in the digital space is good for me because I can enhance and enlarge things freely to better see them. It helped me realize that I'm interested in web design and accessibility, and that's something I'd like to do in my career.
Parker is building his web design portfolio through an internship with Cottingham and Butler that will extend through the summer of 2022. As he looks ahead to his career, he is taking his graduation as a time to appreciate all he's been through. 
"I've had a few disasters along the way – projects that just didn't come together or I look back now and wonder, 'what was I thinking?' but I am a different person from who I was when I came here in 2018. I have learned so much," Parker said. "While I am ready to graduate and move on, a part of me is not ready to leave this community. I will find ways to visit campus and stay connected."