How a Dubuque Senior Graduate Found Community Across the Street
By Clarke News | December 2, 2021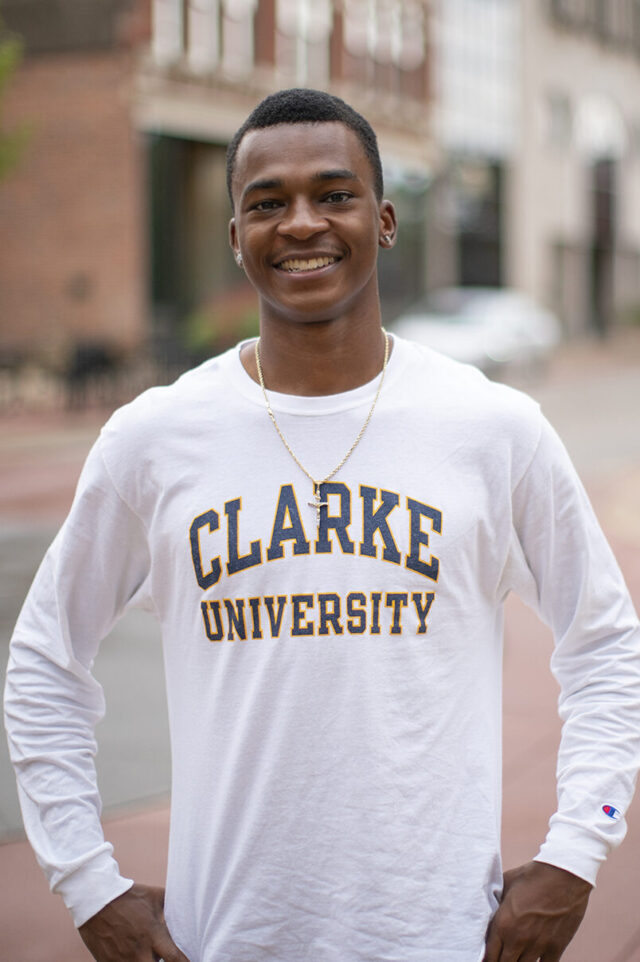 Many students who attend Clarke University call the tri-state region of Wisconsin, Illinois, and Iowa home, but none are more local than graduates from Dubuque Senior High School. Located just across the street from campus, Senior alumnus Daquon Lewis was aware of the college next door, but it wasn't until he enrolled that he realized how much staying in Dubuque meant to him – and to the people he cares about. 
"I'd always heard it was a good school and had played in some basketball tournaments on campus, but coming to Clarke you realize just how nice and welcoming everyone is. You are suddenly a part of this community," Daquon said. "I still remember that first day of school. It was exciting and fun. It was hard not to be nervous, but I just loved meeting new people, playing games, and getting to know everyone." 
Now a sophomore, Daquon has found his place in the Clarke community. This includes bringing his love of basketball into the classroom as part of his degree in Sport Management. "I'm on the Men's Basketball team and the first time we met; we were already family," Daquon said. "I was able to create a hype video for the team as part of my Sport Marketing and Communication class with Teri Stratta.  We work so hard and we also have a lot of fun together, and my classmates and I put that into the video. It was a really fun project and I'm really proud of how it turned out."  
Daquon has also expanded his cheering section by connecting with people and resources on campus like the Margaret Mann Academic Resource Center (MARC). "My first year of school, there was much more homework than high school but Clarke also has a lot of resources. I worked with Gina Burkart in the MARC and she was a big help. She gave me a book called "10 Weeks of College Success" that helped me get in a rhythm with classwork and basketball." 
As Daquon looks to his future, he continues to draw inspiration from Clarke, Dubuque, and the community around him to achieve his goals.  
"When I decided on Clarke, I really felt the love from my community. I was one of the first people in my family to go to college and my mom was so proud, and I have a six-year-old sister I try to be a good role model for. I had a lot of coaches and teachers at Senior who were cheering me on too. Even now, I know I could reach out to them and they'd be there for me," Daquon said. "I want to share all that love with others. I'd like to be a coach one day. I helped out with basketball camps in high school for the younger kids and there was nothing better than seeing the smiles on their faces. To be able to do that and continue to help others would be great."