From Illinois to Iowa, Student Finds Home Away From Home
By Clarke News | September 10, 2022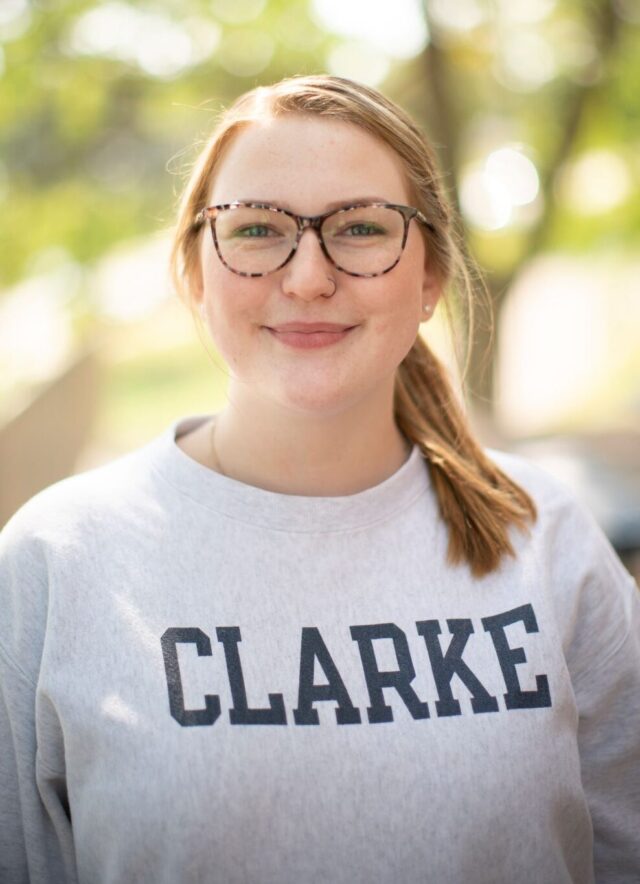 When the time came to tour colleges, Lillian "Lillie" Korpalski '23, turned the event into a road trip for her, her mom, and her mother's best friend and Clarke graduate, Amy (Jackson) Connors '97. As the three made their way north from Crystal Lake, Illinois, Lillie said all signs pointed to Clarke. 
"It was pouring rain everywhere I toured. Then we got to Clarke and the clouds literally parted," Lillie said. "We walked into the Atrium and someone immediately recognized and greeted Amy, who hadn't been on campus in years. I've always been family oriented, so to see that kind of community just moments after arriving on campus made my decision for me." 
Lillie quickly created her own connections at Clarke through her Psychology courses, as president of the Page Turners literary club, and by working for several departments on campus, including Financial Aid and the Nicholas J. Schrup Library. She also enjoyed campus activities like Cocoa & Cram, Pet Therapy, and other events that bring the community together. 
"The thing I love about Clarke is that you can actually get help when you need it. At a large school, they say you'll get support but then you are one of the hundreds of students assigned to an advisor. Here, people are always reaching out. They invite you to drop by and have real conversations," Lillie said. "And because I'm only a few hours from home, that support system is always there when I need it, too. My brother, parents, and grandparents make the trip often. The first time they came to campus, I swear my grandpa bought out the campus store. He has a whole Clarke closet now; he was so proud that I was his first granddaughter to move away for college."
The support of her family and friends became even more critical in 2021 when Lillie developed an autoimmune condition that left her weak and lethargic. "I had difficulty walking, I was sleeping most of the day, but I still didn't want to give up on school," Lillie said. "My doctor finally ordered me to take a semester off, and Clarke worked with me. They really wanted what's best for me as a person, not just a student." 
After taking a semester off, Lillie returned to school in fall 2022 and is working to find balance between life, work, and academics again. She lives on campus with her preapproved emotional support animal, a cat named Pebbles, which has helped her build and maintain a workable schedule. "My dorm is right there so I can rest between classes if I need it, and my job in the library is really flexible with the hours it offers," Lillie said. "Clarke and Dubuque feel like home, and I'm so glad to be back." 
Lillie is set to graduate in 2023 and hopes to pursue a master's degree to become a high school guidance counselor one day.