From Madison, Wisconsin to Clarke University: Kaytlin's Story
By Clarke News | November 6, 2022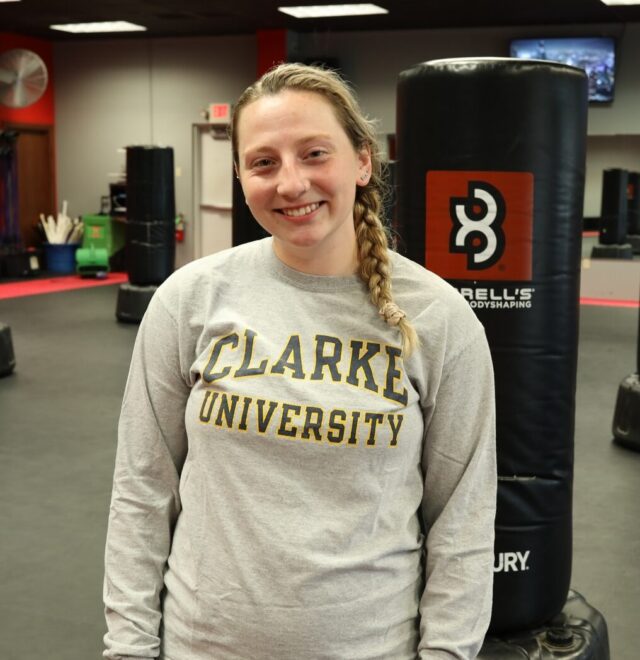 As a high school senior, one of the top requirements of Kaytlin Eder's college search was that her school be far away from her hometown of Madison, Wisconsin. She scoured options from coast to coast and slowly but surely, Clarke University made its way up the list.  
"My parents always knew it was the one for me, just from the way I talked about it," Kaytlin said. "Everyone here is just like a family and so welcoming. Plus, it's a bonus that the residence halls are connected so you don't have to go outside in winter. I can wake up 10 minutes before class and be on my way."  
An hour and a half from home, Kaytlin, a Health, Wellness, and Behavioral Sciences major, found that Clarke offered an option that was far enough to let her grow in her independence, yet close enough for family to visit. This has also allowed her family to attend many of her events as a two-sport athlete for the Clarke Pride, competing with both the basketball and track & field teams.  
Beyond athletics, Kaytlin has found many ways to get involved in the Clarke community, such as preparing food for campus events through her minor courses in Nutrition and Food Science. She also works as a resident assistant and volunteers as a Prayer Pal with the BVM Sisters at Mount Caramel. 
"I didn't know what to expect when I first started Prayer Pals, but it's so nice to have another person who cares about you. The sisters are always praying for us," Kaytlin said. "It's been really fun and a good experience. It makes you appreciate the little things and cherish the moments."
Kaytlin has also formed connections in the Dubuque community, thanks to her internship at Farrell's eXtreme Bodyshaping. Kaytlin worked as a trainer alongside owner and Clarke Psychology alumna Jenn Nethery, '01. While she was able to apply theories from her Health, Wellness, and Behavioral Sciences courses to her work in the gym, she also pulled from other Clarke classes.  
I absolutely dislike public speaking, but I took Oral Interpretations with Joe Klinebriel and it has helped me in the best ways possible. At my internship at Farrell's, I have to be on a microphone, giving instructions, and keeping people motivated. It's helped with other class presentations and my stress and anxiety there as well.
Kaytlin Eder, '23
As she begins her senior year at Clarke, Kaytlin was invited back to Farrell's to continue as a trainer and extend her internship to include more research into the relationship between nutrition, exercise, and mental health. These experiences combined with her classwork are helping her prepare for what lies in store after graduation. 
"This has opened my eyes to see what else I can do, especially now that I've had experience with marketing and teaching at the gym," Kaytlin said. "I've thought about being a health coach or personal trainer. I think that's what's great about Health Wellness is that there are so many possibilities."