'I Wouldn't Trade my Time Here at Clarke for the World'
By Clarke News | November 18, 2021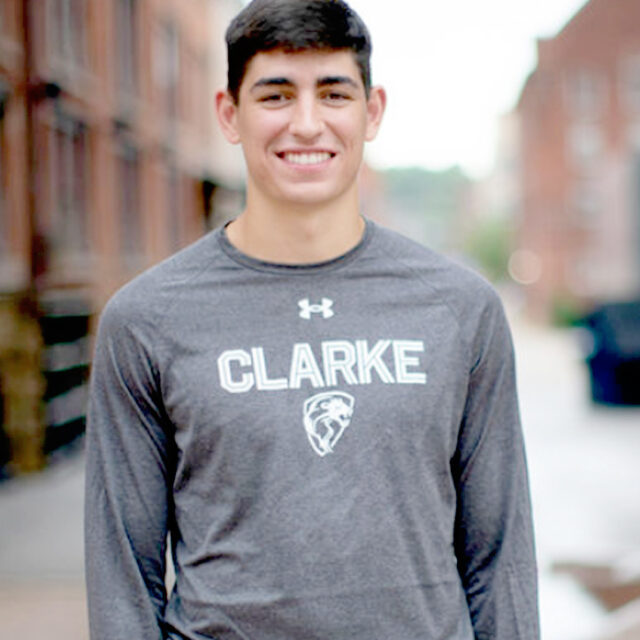 Reid Larson had always been an active guy. A three-sport athlete at Fennimore High School, he was usually training or studying. In his free time, he explored other hobbies like hunting and wakeboarding. At the heart of it was a true drive to learn new things – especially when it meant he could help other people. So, when Clarke University offered him a chance to pursue a degree in health care, athletics, and more, it was an opportunity he couldn't pass up. 
"I've always been very interested in everything associated medical field and the human body so when I was exploring majors, Nursing caught my attention," Larson said. "I did a lot of research into 2- and 4-year schools, looking for what made each program unique. "Growing up, my first opinion of Clarke was that it was a good school that I had always considered attending but once I was here on a visit, I was able to learn about all of the resources and facilities that are here to help students be the best they can be each day. When I received a basketball scholarship too, it made Clarke the perfect fit for me." 
In just his second year at Clarke, Larson is already experiencing all the things that make Clarke special. He is excelling on the court and in the classroom. More than stats or grades, however, it's about creating connections with those around him.  
"I have really enjoyed our nursing clinicals and how I have been able to build such great relationships with all of my nursing professors. They want us as students to succeed as much as we do for ourselves and are always there to help with anything whenever you need them," Larson said.
Personally, I just want to be the best version of myself each day no matter if it's on the basketball court or in the classroom so I can say I have given college my best effort.
Larson is also making an impact in his community. He joined several classmates in volunteering at Camp Courageous this fall, a summer camp for children and adults with disabilities, and their families.  
"My Camp Courageous experience was awesome. I was able to make so many great connections with both children and adults with disabilities that when our time was done there, I felt that I had made a difference in multiple peoples' lives that day," Larson said. 
As he looks to the future, Larson hopes to pass his boards after graduation and pursue travel nursing. For now, he's content to focus on the present so he can learn, build, and apply new lessons every day. 
"I wouldn't trade my time here at Clarke for the world. I have been able to grow so much as a person and meet so many great people!"