Involvement is the key to success for Cedar Rapids student
By Clarke News | October 2, 2022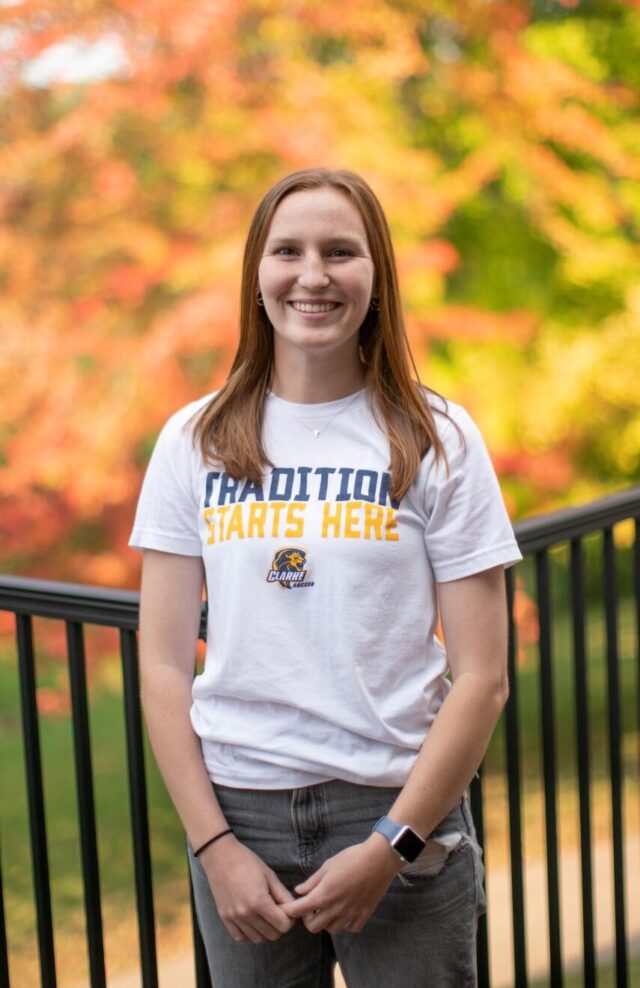 When you ask Anne Crawford about some of her favorite things, her family, her dogs, and soccer are sure to make the list. By choosing Clarke, she has been able to keep all three things close while continuing her education. 
"My sister Rachel came here first, so I would come to visit sometimes. Even before I was looking at colleges, I knew I liked Clarke," Anne said. "Now that I'm here, I can play soccer and manage my time so I stay on top of my academics. Being from Cedar Rapids, I'm only a short drive from home so my parents and my dogs can visit, or I can visit them. Coming here has been everything I wanted it to be." 
While her sister may have laid the groundwork for Anne to come to Clarke, she's since carved her own path. Beyond the soccer team, the Pre-Physical Therapy and Health, Wellness, and Behavioral Sciences major and Biology minor is also the president of the Clarke Student Association, a member of the Biology Club, and served as a Tuckpointer, helping new students move in and get to know Clarke. Anne is also a member of the Scholars Program, an academic merit society that offers both new challenges and opportunities for students to enhance their academics. 
"The Scholars program has been a support system where, especially on the academic side of things, we all want to be good students; we all are taking hard classes. We're there for each other, and we understand that, but then we are also able to have fun. We do social events every month which is super nice," Anne said. 
As part of the Scholars Program, Anne has completed special Scholars or contract courses, where she conducts additional research outside of the regular curriculum of a class. Under the guidance of professors like Loren Rice and Tim Boffeli, she's been able to study subjects that interest her and align with her goal of a career in health care.  
"I've written research papers on the economic costs of the death penalty and the drastic, systematic differences in mortality rates for Black women compared to white women. I've looked at how sports can help those with mental and developmental disabilities. Those are some of the projects I've been passionate about," Anne said. 
Those research topics align with Clarke's core values of justice, freedom, education, and charity. The core values are incorporated into so many of our courses, and I think it is important to talk about them because even though they're Clarke's core values, they will transpire into real-world situations. Learning about them now and how to carry those core values with you into real-world situations will only help me in the future.
Anne Crawford '23
After graduating with her bachelor's degree in 2023, Anne intends to continue with Clarke to earn her Doctor of Physical Therapy degree. While she is unsure of her path after that, she knows she will be ready for the next step. 
"I feel like I have grown a lot. Coming into college, I wasn't a very social person. I kept to myself, kept to the friends I already had. I would never have thought of going out for a leadership role, like being CSA president," Anne said. "That's the thing I enjoy about Clarke, they push you, maybe to some uncomfortable positions, but it's to help you grow and to help you learn. I feel like Clarke has really helped me flourish in that aspect. Coming here has made such an impact in my life and I can't imagine going anywhere else."