Reaffirming our Commitment to Sustainability
By Clarke News | April 13, 2022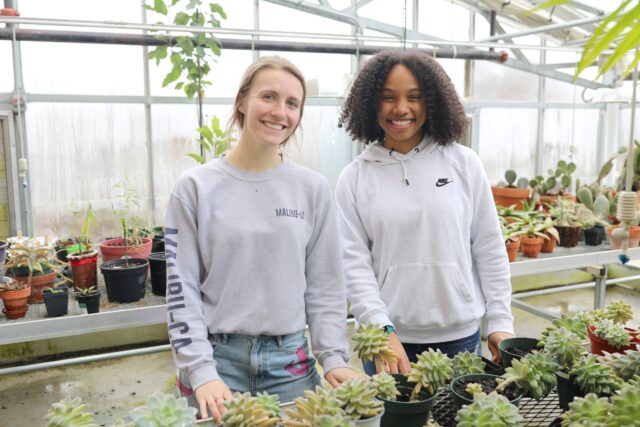 In honor of Earth Day, members of the Clarke community are reaffirming their commitment to sustainability efforts throughout the month of April.  
Clarke employees set the tone for the month by exploring Laudato Si' as part of the Catholic Identity Retreat on March 31. Laudato Si' is the second encyclical of Pope Francis and calls for global action to "care for our common home." Over the course of the half day retreat, employees designated action steps that could impact sustainability on an individual, department, and institutional level. The conversation continued throughout the day thanks to Clarke's participation in The Worldwide Teach-in on Climate and Justice.  
"Sustainability aligns with Clarke's core values in a deeply meaningful way because taking care of our shared home contributes to the common good," said Jessica Schlader, Co-chair of Clarke's Sustainability Committee and Corporate/Foundation Grants and Research Officer. "Events like the Catholic Identity Retreat, the Worldwide Teach-in, Earth Week, and others serve as reminders of these practices, and they are something that we strive to incorporate year-round across all areas of Clarke." 
One of the most visible demonstrations of student commitment to sustainability is the Clarke Student Association leading an Earth Week pledge drive in the Atrium April 19-22. Participants are asked to share one way they can change their daily life to foster a more sustainable future. 
Other Earth Week events include a meditation and sound healing session on the Atrium front lawn on April 20, led in partnership with the Clarke Sustainability Committee and staff from Challenge to Change. Founded by alumna Molly Andersen Schreiber '99, Challenge to Change is an organization in Dubuque, Iowa that promotes physical, social, and emotional wellness. Later that evening, the Office of Engagement and Intercultural Programs will host a showing of "City of Trees," a documentary exploring environmental and social justice issues as a Washington D.C. suburb works to beautify its parks with a large-scale tree planting program. 
"We felt the film was a great choice not just for Earth Day, but for its alignment with Clarke values and our own role in the Tree Campus USA program," said Callie Clark, Director of Engagement and Intercultural Programs. "The film demonstrates how transforming landscapes can also transform people's lives." 
Clarke students will also be sharing their commitment to sustainability with the greater public. On April 26, five student winners of the Clarke Activism and Values Informed Education Clarke Compass Award will lead a series of Earth Day activities at the Boys and Girls Club of Greater Dubuque. Beginning at 5 p.m., Clarke students will guide children and their families in decorating flowerpots and planting seeds, while also leading a conversation on how we all contribute to the care and health of the world around us.  
These activities build on the many less visible steps the Clarke community takes every day to reduce our carbon footprint and embrace sustainable living. This includes everything from reducing waste in our dining halls, to decreasing our energy use on campus, and even the guiding principles we use in our investment practices. 
To learn more about sustainability on campus and get involved, visit clarke.edu/sustainabilty-at-clarke.