Student Life Leads Black History Month Celebrations, Reflections
By Clarke News | February 11, 2022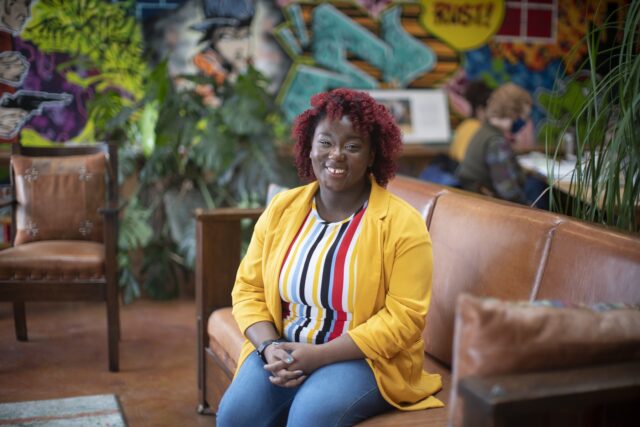 Clarke University is excited to celebrate and reflect on Black History Month this February. Various departments around campus are supporting programs and initiatives in honor of Black American culture.  
Programming honoring Black History Month started a little early on January 26 with the Engagement and Intercultural Programs department sponsoring a performance titled, "Letters from Anne and Martin". This event was performed in Jansen Music Hall by actors from the Anne Frank Center for Mutual Respect USA. Normally, performed for a younger audience, this impactful and somber piece demonstrates the parallels of the lives of two historical figures through excerpts of Anne Frank's The Diary of a Young Girl and Dr. Martin Luther King Jr.'s Letters From Birmingham Jail. The performance included an in-depth discussion between the performers and the audience, exploring how the words and themes of Anne Frank and Dr. Martin Luther King Jr. remain relevant today.  
Black History Month events will continue throughout February with programming from the Black Student Union by way of presentations, a movie night, and of course, the Annual Black History Banquet. Some of the highlights include Clarke students presenting Unsung Heroes: Historical Black Figures You May Not Know at 6:30 p.m. on February 15 in the Student Activity Center.  
Next, on February 17 at 7 p.m. BSU in collaboration with the Clarke Activities Board students can enjoy a movie night and view either The Help or 42 in the Lion's Den. Following the simultaneous showings, attendees will be invited to stay and discuss the themes and concepts present in each film. The following week, on February 22 at 6:30 p.m. in the Fabiano Conference Room, students from BSU will present on Black Hair, where we will dive into the history, stigma, reclamation, and care of Black hair.  
Finally, the Annual Black History Month Banquet will be held on February 24 at 5:30 p.m. in the Atrium. This year's theme is "The Power of Representation." In the past, we have had a speaker at the banquet but this year Clarke students decided to provide guests with a 'live' museum. Students will research and  impersonate historical figures which guests can speak to and learn more about why these figures are important to Black history.  
We hope that friends and community members will continue to engage in celebrations across the city, state, and nation for Black History Month. To learn more about Black History Month and all Student Life events at Clarke, visit thesource.clarke.edu.