Teaching in a Toga
By Clarke News | October 13, 2020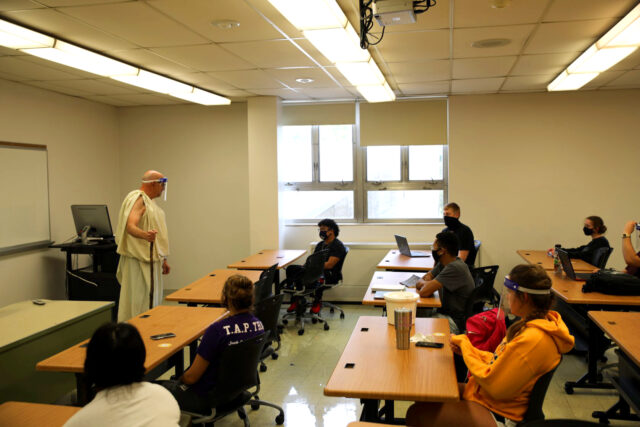 For Professor of Philosophy Norm Freund, teaching involves lectures, discussions, sometimes show and tell, and even a bit of dramatic acting in costume. Freund dresses up as both Socrates and a medieval monk in his PHIL 110 Fundamentals of Philosophy class. In that class, he uses a philosophical novel instead of a standard textbook. The novel is titled, "Sophie's World." Within the text, a soon to be 15-year-old Norwegian girl (Sophie) meets an enigmatic philosopher named Alberto Knox. Together they try to solve the mysterious circumstances of the novel while studying the history of Western philosophy along the way. In the story, Alberto often dresses for the occasion of the person studied.
Freund said, "The character of Alberto was my role-playing inspiration. I also role play Immanuel Kant and a Medieval monk in full academic attire later in the course. I literally become each person and the students seem to love it. It is as if they are talking to someone right out of history."
Monday, September 14, 2020, caused a moment pause for Freund. Due to his upcoming retirement in May 2020, this would be his last time donning the toga. Freund said, "I am looking forward to retirement while also reflecting on the end of so many things. September 14 was my last time role-playing Socrates. I am also teaching this introductory philosophy class for the 120th and final time as a Clarke professor this semester. Bittersweet, to say the least."
Freund's lectures are riveting on an ordinary day. When he enters the classroom in a toga and begins to speak like Socrates, students are mesmerized. He doesn't step out of character for the entirety of the class. From behind his face shield this fall, he shared the story of a pandemic very similar to the current one that made its way through ancient Greece.
Student Montez Thompson '21 said, "Norm is a phenomenal teacher and advisor. He always makes sure I am on the right path to do well in his classes and in life. His teachings are precise and consistent. He gives you all the information you need to know to excel in the course and to continue your studies in philosophy. I love the way he interacts with the students and comes up with creative ways to get us thinking. He is an absolutely extraordinary professor and human, and a great asset to Clarke's family."
Freund shared that he interviewed for his position as a Clarke professor the day Ronald Reagan was shot (March 30, 1981) and began his service for Clarke in August of 1981, after teaching for one year at Luther College. This May completes 40 years of service at Clarke. He said, "The two greatest challenges that Clarke has faced in my 40 years here have come at the beginning (1984 fire) and end (COVID-19) of my tenure."
Read the Telegraph Herald's feature on Freund from Oct. 12, 2020.