The Healing Power of Art
By Clarke News | June 12, 2023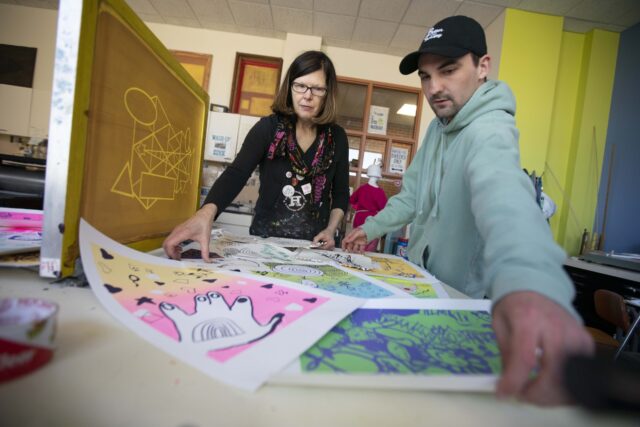 With support from a Special Projects Grant from the City of Dubuque, the work of Clarke artists reached new members of the community this spring. The $5,800 award from the city allowed six students to bring custom artwork to the halls of Crescent Community Health Care and the homes of its patients. 
Beginning January 2023, patients at Crescent Community Health Care were encouraged to draw in sketch books while they waited for care. The sketches were then collected, digitally scanned, and used as design elements for screen prints in Clarke's Spring 2023 Printmaking course as part of its studio art program.  
"This project not only increased access to and participation in the arts for historically underserved populations, but exposed students to a community-based collaborative art form and extended their practice beyond individual image generation. Each participant saw how the power of art can relate to and engage all members of a community."
Louise Kames 77', Art Professor and Program Director
Several prints now hang in the Crescent Community Health Care Clinic, and 200 more will be distributed to patients as part of the clinic's National Health Center Week Celebration in August. Additionally, Crescent Community Health Care will incorporate design elements from the screen prints into a mural as part of a larger renovation of their community space. That work is set to begin this summer, with Clarke students and others from the Dubuque community taking part.