Transfer Student Celebrates 'Found Family' at Clarke 
By Clarke News | May 12, 2022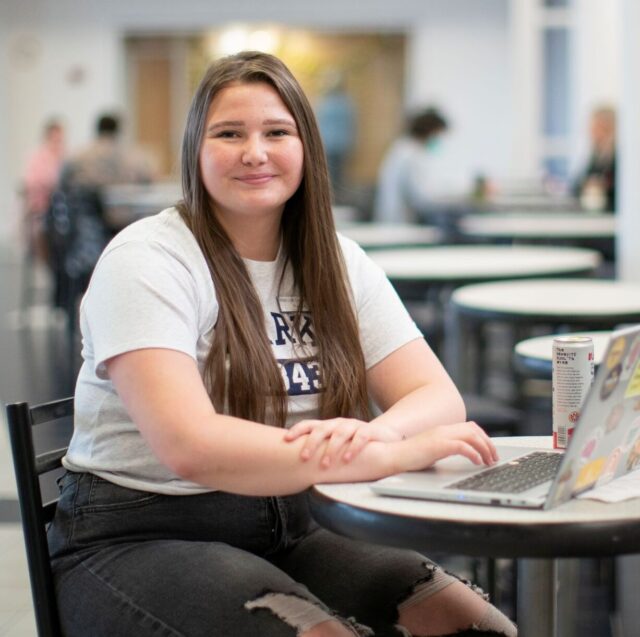 After completing her associate degree at Scott Community College, Paige Sparrow was ready to take the next step in her college career. Moving to Dubuque from Davenport, Iowa, she anticipated a lot of the challenges that come with a transfer, like creating an academic plan and making new friends, but there was one challenge she didn't see coming – COVID-19.  
"I transferred in 2020 at the height of COVID-19 which made things really hard. I felt like an outsider at first, but when I got a job at the Whitlow Campus Store, I met so many wonderful people. Sarah Haas and Rachel Lamb have been amazing, not just to work for, but to help me and the other students with whatever we were going through," Paige said. "Then I joined the Track and Field team and it was like I found this whole new family, especially my friend Rory. My professors and advisor are also so supportive, I've found people like that all over campus. Because of them, I know I'm never alone." 
With her newfound support network, Paige dove into her studies. She took a full credit load so she could complete her bachelor's degree in Health, Wellness, and Behavioral Sciences while earning a minor in Nutrition and Food Science and graduating just two years after transferring. During her time at Clarke, she also completed an internship with Statera Integrated Wellness Solutions that helped her put what she learned in the classroom into practice. 
"Through my internship, I've been able to shadow providers across a lot of different disciplines like chiropractic, behaviorist, physical therapy, and more. I even work one-one-one with the CEO to help update informational materials across the company," Paige said. "I most enjoyed working with the Nutritionist, and they introduced me to a program where I can earn my Integrated Nutrition Coach license, so after licensure and graduation from Clarke, I hope to start my own practice or find a position as a nutritionist in the area." 
Yet for all her determination, there were times when she found herself struggling to focus and feeling overwhelmed. After learning about some of the symptoms through her coursework, Paige saw a doctor and was diagnosed with ADHD. 
"Even before my diagnosis, Clarke was great about providing me with resources and support," Paige said. "There were times when I would feel down or like I was falling behind down, and the professors never judged me. They saw me as a person and were there to help me." 
Paige also credits her experience with the Track and Field team for helping her excel in school. She competes in shotput, discus, hammer throw, and javelin for the Clarke Pride, with hammer being her favorite event. 
Being a part of a team, it gave me structure and responsibility. Sometimes it can feel like a solo event, but I know my teammates are counting on me and that I can count on them," Paige said. "Track and Field gave me that group of people I could go to for anything. I've made lifelong friendships, and I feel like I'm also a better, more disciplined person because of them.
In just two years, Paige found her place in the Clarke community. Now, with graduation a few weeks away, she is looking forward to what's next while celebrating how her life has changed along the way. 
"Coming here, I found my family. There are people here I know I will be friends with for the rest of my life, and I couldn't be happier with the choice I made. It was scary at first, but in the end, it was the best decision I've ever made."