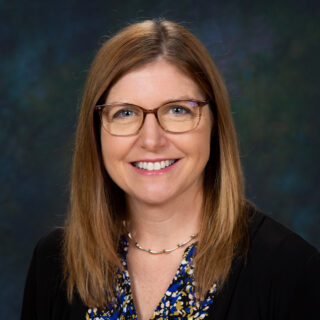 Paula Schmidt, Ed.D.
Professor of Education
---
Educational Background
University of Northern Iowa , Ed.D. in Special Education, Emphasis:  Inclusive Leadership, 2008
Marian College, Fond du Lac, WI, Master of Arts in Education, Emphasis:  Students At-Risk, 2000
Winona State University, Winona, MN, Bachelors of Science in Elementary Education & Special Education, Licensures: Elementary Education · Learning Disabilities (K-12) · Mild to Moderate Mentally Impaired (K-12), Emphasis: Spanish, 1997
Teaching Philosophy
I believe that all students bring unique experiences, perceptions and abilities to the classroom. These differences shape who they are and how they interpret the material being presented. I believe in embracing, not stifling, these differences in my students. My teaching philosophy is based on the constructivist learning theory. I believe that it is my role to create and maintain a classroom environment that allows students to construct, deconstruct and reconstruct their learning in alignment with the content presented.
The relationships I have formed with students, faculty and staff at Clarke are the best part of working here. Clarke is truly a caring, learning community committed to excellence in education. I see and feel it daily at Clarke.
Paula Schmidt
Profile
Professional Background
Iowa licensure (currently held):
                  K-6 Teacher Elem Classroom
                  K-6 Mildly Disabled
                  K-6 Mentally Disabled Mild/Moderate
                  7-12 Mental Disabled Mild/Moderate
                  K-6 Learning Disabilities
                  7-12 Learning Disabilities
                  K-6 Multicategorical Special Class Intg
                  7-12 Multicategorical Special Class Intg
                  K-6 Instructional Strategist I: Mild/Moderate
                  7-12 Instructional Strategist I: Mild/Moderate
Wisconsin licensure (previously held):
                  Alternative Education Program Middle/secondary (grades 6-12)
                  Pre-K through grade 12 Cognitive Disability
                  Pre-K through grade 12 Learning Disability
                  Elementary 1st-6th grade
Research Interests
Special education
Differentiation
Professional Development Schools
Adolescent learner
How people learn
Certifications and Memberships
American Educational Research Association (AERA)
Council for Exceptional Children (CEC)
National Association of Professional Development Schools
National Association of Special Education Teachers (NASET)
Iowa Association of Colleges of Teacher Education (IACTE)
American Association of Colleges of Teacher Education (AACTE)
Phi Delta Kappa International
Iowa Association for Professional Development Schools – Executive Board member 2012-Present
Member of the Iowa Educator Preparation State Panel (2016- present)